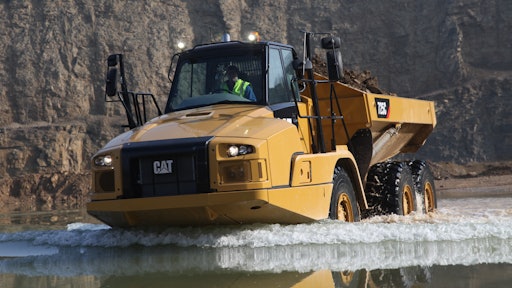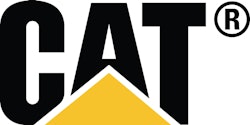 The new Cat C Series articulated dump trucks—725C, 730C, and 730C EJ ejector—feature new engines with more power, advanced transmission control, enhanced operator amenities, new serviceability features, and for the 730C and 730C EJ models, automatic traction control. The design of the new models centers largely on customer requests for increased productivity, lower operating costs, superior availability, long-term durability, added rimpull/retarding capability, ease of operation, high resale value, and maximum rental margins. The 725C has a rated payload capacity of 26 tons (23.6 tonnes), and the 730C and 730C EJ models are rated at 31 tons (28 tonnes).
Engine, drivetrain, traction control
The Cat C9.3 ACERT engine powers the 725C and is rated at 314 net horsepower (234 kW), and the Cat C13 ACERT in the larger models has 367 net horsepower (274 kW). All three models are available in US EPA Tier 2/EU Stage II equivalent, Tier 3/Stage IIIA equivalent, or Tier 4 Final/Stage IV configurations to meet worldwide emissions standards. A diesel particulate filter and selective catalytic reduction system provide exhaust aftertreatment for Tier 4 Final/Stage IV models.
Compared with predecessor models, the 725C has a 4% gain in gross power and a 20% boost in gross torque; 730C and 730C EJ models have nearly 16% more gross power and more than a 30% gross torque improvement.
The Cat 6F/1R powershift transmission, which electronically modulates clutch engagement pressures for smooth, positive shifts, now also incorporates Caterpillar Advanced Productivity Electronic Control Strategy (APECS). The APECS system improves acceleration, maintains torque converter lock-up (and ground speed) during critical shifts, increases rimpull, provides automatic speed holding, modifies shift points to match operating conditions (for increased fuel economy), and automatically reduces retarding forces on lesser grades in lower gears. The overall net benefits are optimum productivity and optimum control of the truck.
For controlling speed on downhill grades, 730C models employ a new engine compression brake that provides 60% more retarding power than predecessor models. The 725C uses a fluid retarder with four operating modes. Both systems effectively manage speed and minimize service brake application for extended brake life.
All three new C Series models feature full-time, six-wheel drive and are equipped with wet disc clutch locks in the axle differentials and the inter-axle differential. On-the-go application of the locks, which assist traction in adverse conditions, is done at the 725C operator's discretion via in-cab controls, while the new Automatic Traction Control system in the 730C models applies the locks automatically—and proportionally—as ground conditions dictate – with zero input required by the operator.
Structures and suspension
The new C Series models feature rugged, field proven major structures, which have earned Cat articulated trucks a stellar reputation for long-term durability in severe applications. The front frame incorporates massive box-section longitudinal beams, and the rear frame uses a new design four-plate box construction to reduce stress points.
The hitch retains the field proven two-piece construction, using a durable cast steel head bolted to a hard wearing forged steel tube, ensuring a tight, trouble-free connection between the frames.
Three-point, oil/nitrogen front suspension and walking-beam rear suspension effectively absorb haul road impact to allow safe, high speed travel. The new design dump body, using high strength Brinell HB450 wear resistant steel to shrug off impact and abrasion, features a diverging flow design that promotes clean dumping and minimizes material carry back. New design top rails effectively reduce rocks falling off at the loading area.
Operator environment
The C Series spacious two-person cab—with a newly designed, multi-adjustable air suspension seat for the operator and a full size, forward facing seat for the passenger—features a tilt/telescopic steering wheel and a convenient wraparound dash. A color multi-purpose display provides pertinent operating information, including a rearview camera display.
The low, sloping hood, coupled with the operator's central position and expansive glass area, ensure excellent all-around visibility. Intuitive, low effort controls contribute to safe operation and operator convenience. For effective fleet management, the Cat Product Link telemetrics system, where available, allows remote monitoring of the machine via an intuitive web-based interface, VisionLink.
External and lighting
Newly designed headlights/turn indicators (mounted wider on the machine) and new, high mounted LED width position marker lights contribute to improved night time working. A new, fully welded front bumper design provides extra durability at the front of the machine, and a new, full-width engine belly pan provides enhanced protection to the underside of the machine.
Serviceability and safety
A new electric hood, raised and lowered via a switch in the cab, provides ample access to routine service points, and the rear-of-cab mounting of the radiator (using long life coolant) allows easy access for cleaning. The cab itself tilts for access to the transmission, drive shafts and hydraulic components, and an electrical service center in the cab provides a power port, diagnostic connector and Cat Data Link connector. Extended drain intervals for engine oil and hydraulic oil lower maintenance costs, as do adjustment-free wheel bearings.
To promote safe operation, the cab features integral ROPS/ FOPS construction. An electro-hydraulic secondary steering system automatically activates in low pressure situations, and the secondary/parking brake is spring applied, hydraulically released. External switches for fuel cut-off and electrical disconnect are easily accessible outside the machine, and a "body-raised" alarm ensures safe travel. An extensive handrail system, slip resistant surfaces, and large, wide angle mirrors (available in a heated a version), further enhance overall safety.