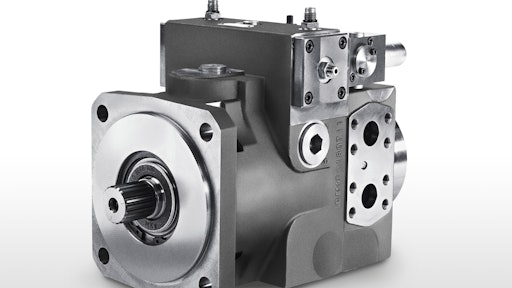 In addition to the new pieces of equipment Liebherr Construction Equipment Co. (company information, 10055719), Newport News, VA, displayed at CONEXPO-CON/AGG 2014, the company also decided to exhibit for the first time in the U.S. the various components it manufactures both for its own group and other OEMs (learn more, 11290704, and 11300742).
Components on display included ball bearings and roller bearing slewing rings, gearboxes, travel drives, as well as the company's new Tier 4 Final engine using an SCR-only aftertreatment system.
According to Pietro Iemmi, Managing Director of Liebherr-Components AG, the company has been making a considerable effort to expand its activities in the field of components. In 2012, the central sales and service company Liebherr-Components AG (company information, 11300739) was formed to manage Liebherr's components business worldwide, focusing on sales to customers outside of the Liebherr Group.
Construction, mining and other specialty equipment OEMs are the target customers for the division, and one of the reasons it chose CONEXPO-CON/AGG 2014 (event information, 10207294) as an exhibition platform.
Iemmi also notes that Liebherr has identified North America as a key market for sales, in addition to Europe, Russia and China. "Liebherr has been a key supplier to many U.S. organizations in the wind industry for several years," he says. "However, when it comes to the mobile machinery industry, we are just getting started."
To better serve its growth efforts in North America, the company has also established a local sales subsidiary, Liebherr Components North America Co.
Tier 4 Final engines
Liebherr develops engines not only for its own equipment, but is also in in-depth conversations with other OEMs who could benefit from its engine technology. Iemmi says that so far the company has supplied engines to OEMs in Europe, Russia and North America.
A highlight at Liebherr's components pavilion was the new 8-cylinder Tier 4 Final diesel engine. Liebherr was able to develop an aftertreatment system for the engine which only uses selective catalytic reduction (SCR) to meet emissions regulations. Because of this, there is no need for additional diesel particulate filters (DPF), exhaust gas recirculation (EGR) or oxygen catalysts. "Ideal system integration and intelligent development solutions have made it possible to reduce untreated particulate emissions within the engine to a level below the specified limit," says Andreas Bogner, Head of Sales, Diesel Engines, at Liebherr-Components AG.
When developing its Tier 4 Final engines, Liebherr made sure it kept worldwide emissions regulations in mind. "Most machinery manufacturers don't just sell to the U.S. or South America, they want to offer their machines all over the world," Bogner says. "Since in many countries only Tier 3 or even Tier 0 regulations remain in place, we have come up with an engine set that complies with all requirements at different stages of expansion."
While the basic interface of the engine stays the same for each market, the aftertreatment system dictates in which one it can be used. For markets without any emissions regulations, the most basic version of the engine, without an exhaust gas aftertreatment system, is available. Once an EGR system is added, the engine will comply with Tier 3 regulations. Adding Liebherr's SCR-only system to the basic engine design enables Tier 4 Final emissions compliance. "Offering the same interfaces for every market facilitates machinery design and enables our customers to sell used Tier 4 Final machines into lesser regulated markets, as the engines can also be downgraded," says Bogner. "This increases the resale value significantly."
In addition to developing the engine itself, Liebherr also designed the common rail fuel injection system being used on the engine, as well as the engine controls. Because Liebherr designed these systems itself, the company is able to ensure optimal system integration. Both of these technologies are also available for integration into other manufacturers' engines. Liebherr can supply either single components of the common rail technology or a complete system, depending on the manufacturer's needs. For the electronic control unit, the hardware and corresponding software are both available, which can help facilitate the integration of the common rail fuel injection system, says Bogner.
Other features of the new engine include a leakage-free injection system, stable multiple injection and a working pressure of up to 2,200 bar, all of which contribute to efficient fuel combustion and improved fuel efficiency.
Mounted onto the engine Liebherr displayed at CONEXPO was a hydraulic driveline, also developed by Liebherr and available from its components division. "We deliver the diesel engine with hydraulic driveline as a single assembly to customers to ensure a cost-effective and easy installation into the machines," says Bogner.
Included on the driveline is a splitter box with four output shafts, as well as two hydraulic pumps designed as axial piston pumps with swash plates. The splitter box is capable of transmitting a maximum power of 500 kW; it is used to drive three variable axial piston pumps for closed circuits, as well as one axial piston double pump for open circuits. "All these components are very well matched to each other and to the powering diesel engine and therefore have a high overall degree of efficiency and compact build," says Bogner. "They are also proven and tested in the most adverse environments."
Companies in this article