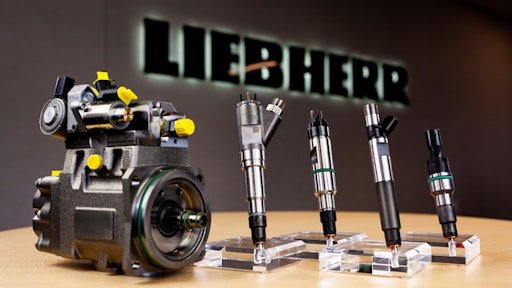 Liebherr Components
Last year, Liebherr USA, Co. celebrated its 50th anniversary. For half a century, the Liebherr Group has been well known as a manufacturer of high-quality construction machinery and off-highway applications. However, the company also develops and manufactures diesel fuel injection systems.
Paul Mercurio, Sales Manager for diesel fuel injection equipment at Liebherr USA, Co., speaks about Liebherr common rail systems and gives insights into the technology, his daily business in the U.S. and the challenges he and the Components' team are facing day by day.
Q: Paul, you are the face of the Liebherr-Components Division in the U.S., representing the activities of the fuel injection business unit. Would you please introduce yourself and explain how you and your department support the fuel injection business in the North American market?
A: I am an engineer by trade and have over 30 years of experience in the automotive industry, with the last 10 years spent in diesel systems. Over the years, I have acquired a thorough understanding about the scope and landscape of the diesel market in the U.S. and have established many valuable contacts in the business. On the one hand, I therefore bring my commercial and technical expertise to my colleagues and help them determine, where our products fit. On the other hand, I also give insight into new product developments, expectations and requirements in the US market.
Q: Would you please tell us about the Liebherr-Components Division, and how one of its business units – fuel injection equipment – integrates into the Liebherr world?
A: Liebherr is known in the USA as a construction machinery manufacturer. Less well known is that Liebherr also manufactures functionally relevant system components for its own engines and machines and offers them to the external market. The Liebherr-Components Division does not only develop and manufacture combustion engines, but also fuel injection systems as a core component. This is exactly what the business unit fuel injection equipment is bringing to the U.S. market.
Q: Would you please explain why Liebherr-Components also decided for a local presence in the USA?
A: We know that electric vehicles are coming to the U.S. market. However, many studies show that due to power density, reliability and cost requirements, diesel will remain the prominent powertrain of heavy-duty and off-highway vehicles for many years to come. As this trend continues, Liebherr has much expertise in the development and manufacturing of combustion engines, which helps to support the market. Therefore, it goes without saying that it was important to establish a sales office in the U.S. The Components Division has been present in the U..S for around 10 years and now promotes the expertise in fuel injection among others.
Q: What common rail solutions bear, in your opinion, the largest potential for the US market?
A: For the majority of heavy-duty and off-highway diesel in the U.S. market, we are well-positioned with pumps and injectors to support engines in the 500-1,000 hp range. Exactly here I see the biggest opportunity. In addition, we have products, already in series production, which cover the power range from 1,500-2,000 hp for large engines.
Q: Knowing the customer's challenges and needs and offering suitable solutions is Liebherr's credo. What do you think are the pain points for engine manufacturers with regard to injection? How can engine manufacturers benefit from Liebherr solutions and services to master the challenges?
A: Relying on decades of experience, we know exactly what it takes large machines to perform reliably. A major pain point in internal combustion technology is fuel economy and exhaust emission regulations. The key in managing this is high quality and precision injection nozzles. Did you know that nozzle spray holes are often thinner than a human hair? Still they must withstand pressures of 2,500 bar and even greater. Some of our experts on site deal with nothing other than the nozzles day by day. Our competence in micro-precision components proves a high level of expertise in manufacturing mass-produced components. They help to improve fuel control, as well as efficiency, and allow for considerable exhaust emission reduction.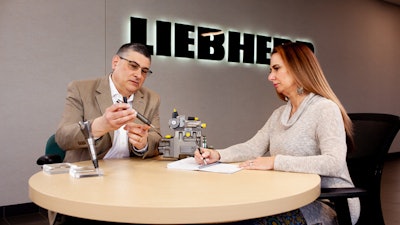 Q: In March 2020, Liebherr announced a strategic cooperation with Stanadyne for the global development and production of common rail systems for the on- and off-highway market. What has happened to this cooperation over the course of the last year?
A: Despite the challenges we all have been facing since 2020, our cooperation has grown further, so that we have identified new strategic developments in the U.S. market. This will enable us to expand our activities in the U.S., particularly in the view of the United States-Mexico-Canada Agreement (USMCA), which came into effective in July 2020. The U.S. manufacturers of heavy-duty engines and equipment will increasingly require local production, and we will be well-prepared to meet that.
Q: Much of your work and that of your team was and is still affected by the pandemic. What were and probably still are your personal challenges in terms of collaboration with customers?
A: Clearly, 2020 was challenging for everyone. However, I approached that not by dwelling on what we were not allowed to do, but rather on what we could do. During the first quarter of 2020, before the pandemic, we were able to meet with several customers and to establish new contacts and identify potential new projects. When the pandemic came, we switched over to virtual communication channels and managed to maintain regular communication with our customers. All of the time, the entire team did a great job, constantly supporting each other, and I would like to express my personal appreciation to my colleagues in Europe.
Q: What were your personal challenges in terms of working with the team in Germany?
A: Immediately after starting with Liebherr, I travelled to Deggendorf (Germany), where I met everyone I would be working with and even more. I toured the facilities and learned about the current and future planned products. Normally, such on-site visits would take place more frequently during the year, which is currently not possible because of the pandemic. However, this period showed us once again, how important clear and regular communication is. I have vast experience in working for German companies, so I understand the differences in our cultures and in the ways of doing business.
Q: How do you see the future of (diesel) injection technology for North America? The world of fossil fuel combustion engines is undergoing a massive change worldwide. Does Liebherr already have plans for alternative fuels?
A: As I mentioned previously, we know diesel will remain the prominent powertrain of heavy-duty and off-highway vehicles for many years to come. And Liebherr has the right products to support that. Regarding alternative fuel and powertrains, Liebherr does offer injection systems for alternative fuel powered engines and is also working on injection systems for hydrogen powered engines. Regarding electrified mobility, Liebherr is also developing electrified powertrains for some specific off highway vehicle applications.
Companies in this article