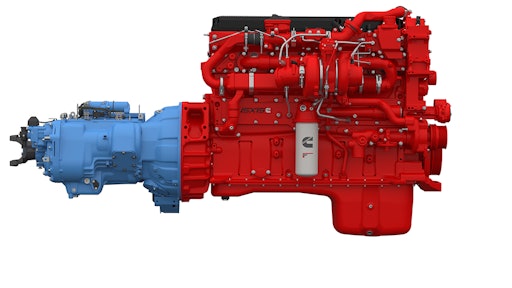 Improving efficiency continues to be a key design criterion for OEMs, especially for those within the heavy-duty commercial truck market where constantly fluctuating fuel prices are a concern for customers. As such, manufacturers are looking to go beyond just updating engines to achieve their efficiency goals. Instead, many have developed integrated powertrain systems which bring the engine and transmission together into a singular system to provide efficiency advancements.
In December 2014, Navistar Intl. introduced the ProStar ES (efficiency specification) package for its International ProStar trucks. The key element of the ES package is the integrated powertrain with downspeeding capabilities. Customers have the option of either an Eaton Cummins SmartAdvantage powertrain—which combines a Cummins ISX15 engine with the Eaton Fuller Advantage automated transmission—or a Navistar SCR-based 13 liter engine paired with the Eaton Fuller Advantage automated transmission. According to Navistar, the downspeeding enabled by the powertrain package allows ES-equipped trucks to run at 150 to 300 fewer rpms at cruising speed which leads to an 11% fuel economy improvement compared to 2010 models.
Engines and transmissions working together for efficiency
Integrated powertrain packages which pair engines and transmissions together to improve efficiency are nothing new. The Eaton Cummins SmartAdvantage Powertrain was first introduced in 2013 with the goal of providing heavy-duty trucks a 3 to 6% fuel economy improvement, as well as lower preventative maintenance costs and total lifecycle cost improvements. Hardware and software improvements to the engine and transmission enable integrated power, fuel and shifting strategies to achieve the fuel economy gains. Additionally, the two companies optimized communication between the engine and transmission, and integrated new control logic for further downspeeding capabilities.
While not new to the industry, these types of packaged systems have become more prevalent in recent years. Detroit Diesel and Peterbilt Motors Co. both announced the release of new efficiency packages at this year's Mid-America Trucking Show (MATS).
During MATS, Volvo Trucks North America also introduced a new efficiency package, super direct drive, which is designed for downspeeding in linehaul applications that operate in top gear at a gross combination weight rating of 80,000 pounds or less with maximum engine torque of 1,850 lbs.-ft. Super direct drive features Meritor Inc.'s 2.28 ratio 14x tandem drive axle and RPL35 driveline, providing a larger pinion system to accommodate the extreme torque levels associated with downspeeding. This ensures torque is transmitted evenly throughout the drivetrain, and an approximate 1.5% improvement in fuel efficiency can be achieved via downspeeding.
Volvo also offers its XE—exceptional efficiency—powertrain packages, comprised of a Volvo engine, Volvo I-Shift automated manual transmission, proprietary engine and transmission software, and tires which roll at specific revolutions per mile depending on the XE package being used. According to John Moore, Volvo Trucks Product Marketing Manager-Powertrain, the XE package lowers engine rpm at vehicle cruise speed and uses the engine's peak torque to maintain top gear, eliminating the need for unnecessary downshifts. "By lowering cruise engine speed 200 rpm to 1,150 rpm, from 1,350 rpm for a non-XE driveline, we save energy due to less internal engine friction," he explains. "The fuel savings amounts to approximately 3%."
Proprietary software manages the entire downspeeding process in order to optimize driveability and fuel efficiency. "Truck drivers frequently operate in speed and traffic scenarios other than cruise," says Moore. "The software monitors shift points and adjusts to conditions to ensure every shift is necessary, saving fuel and driver aggravation."
Currently, the company has three main packages available—the XE11, XE13 and XE16 which are based on engine displacement and rating (e.g. XE11 for 11-liter Volvo engines). Moore says the company also has an XE16 Heavy Haul package featuring a higher rear axle ratio and different tire revolutions per mile to maintain startability and gradeability at a maximum of 143,000 pounds gross combination vehicle weight (GCVW), as well as an XE-Adaptive Gearing package designed to improve efficiency for operations that always go out loaded and return empty.
Regulations should look at more than just engines
Due to the efficiency benefits manufacturers have achieved through the development of efficiency packages, many believe these types of integrated technologies should be accounted for when developing new fuel efficiency and emissions regulations, particularly the proposed Phase II legislation.
During a panel at the Green Truck Summit 2015, executives from Cummins Inc. and Daimler Trucks North America emphasized the benefits of considering an overall vehicle approach which take into account integrated powertrain technologies when finalizing the regulation. Doing so would ensure the most cost-effective methods for achieving real-world emissions reductions, executives said. Brian Mormino, Executive Director of Worldwide Environmental Strategy & Compliance at Cummins Inc., stated during the panel discussion that the engine and powertrain are still the largest areas for improvement, and should therefore be equally considered for the regulation.
On June 22, the Environmental Protection Agency (EPA) and National Highway Traffic Safety Administration (NHTSA) released its proposal for the Phase II fuel efficiency and greenhouse gas emissions regulation. Manufacturers including Cummins and Volvo Group stated their support of the regulation; in its statement after the proposal's release, Volvo Group said it believes a separate engine standard—which would not account for integrated powertrain technologies—should not be included within the regulation. Doing so would not be beneficial to the company's goal of achieving real-world emissions reductions, and would limit manufacturers' flexibility in meeting the regulated targets in a way that also suits each individual customer's specific application needs. Volvo, like several other manufacturers, expressed its interest in continuing to work with the EPA and NHTSA to ensure the final regulation suits both the needs of the environment and the industry.