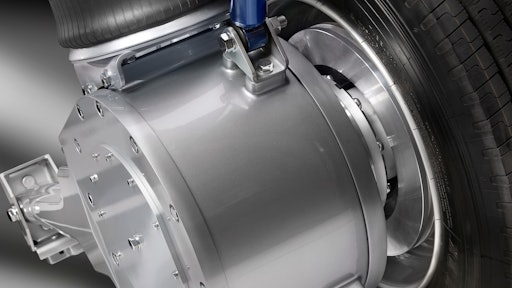 Meritor
The general trend over the last several years for drivetrain development in the heavy-duty on-highway vehicle space has been toward optimized system integration. In the more recent years, suppliers have seen this focus on overall system optimization making headway in the off-highway vehicle markets, as well. Several drivetrain manufacturers have recently announced hydraulic or electric component integrations as part of their drivetrain system launches, showcasing the shift toward a more robust and complete system package offering.
Historically, each subsystem manufacturer would focus on internal optimization and deliver an enhanced engine, drivetrain or axle. These efficient pieces, would be assembled in the best way possible. Now subsystem manufacturers are thinking about how they fit into the larger whole of the primary system while at the same time discovering more opportunities for efficiency by better integrating components starting at the design phase.
A lot of the drivetrain system's optimization demands has been driven by the emissions reduction efforts through greenhouse gas (GHG) and fuel economy legislations, but also simply from continued demand from fleet owners for better fuel economy for cost savings. "What we've seen over the last several years is a concerted effort by the OEMs to better integrate the engine, the transmission and the axle to get better fuel economy for the vehicle," says John Bennett, General Manager, Global Product Strategy and Advanced Engineering, Meritor.
"At the same time, while we have been working with these engine manufacturers, we're seeing advancements in the engines to go slower to be more efficient. That has required us as the axle manufacturers to develop axle ratios that are much—what we call faster—but are lower in numerical number. It's having a major impact on our gearing and axle designs," says Bennett.
Another key benefit to a systems-based approach to drivetrain development and optimization is the potential to reduce overall complexity of the system through part reduction and process techniques. "Our customers are looking for complete solutions. They're seeking integrated packages, including motors, gearboxes, axles, and controllers, from a single supplier rather than purchasing individual powertrain components," says Jason Gies, Business Development Manager of Electric Drivetrain Systems, AxleTech International.
Electric motor integration
The Electric Drivetrain Systems product line from AxleTech includes axle systems that are available with patent-pending multiple-speed gearboxes integrated with one or more electric motors. The integrated parallel-axis helical design allows the system to be lighter, more efficient, and run quieter than first generation direct-drive solutions that typically utilize a single, large electric motor driving a conventional axle.
AxleTech teamed up with TM4, a leading provider of electric motor options, controllers, and inverters. TM4's extensive engineering capabilities combined with AxleTech's drivetrain expertise provide a complete drivetrain system.
"Our customers want flexible, custom-engineered axle systems for their applications. By utilizing off-the-shelf motors with our multispeed gearbox and planetary technology, AxleTech is able to offer affordable and efficient solutions without sacrificing vehicle performance," says Gies. Selecting from commercially available electric motors allows packaging options for low-floor or space-constrained applications while simultaneously supplying enough torque through the multispeed gearbox for off-highway applications.
Gies describes AxleTech's electric drivetrain goals for the heavy-duty industry as "achieving the high torque requirements of off-highway equipment in the simplest, most efficient way possible."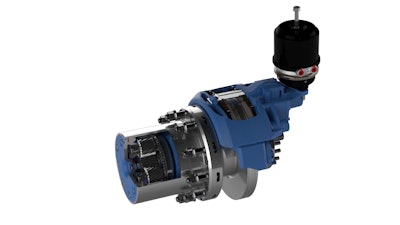 As an example, the wheel end for electric drive, released by AxleTech at CONEXPO 2017, was designed with helical planetary gearing to help reduce noise, vibration and harshness (NVH) and boost strength by 38% compared to spur gears of the same tooth size and width. It can be used as an independent module, or integrated as part of AxleTech's electric axle.
Meritor has been integrating electric motors into the drive axle for years, but the volumes were never large enough to be fully realized as a commercial solution. "We see a potential for that to grow in the future," says Bennett. "Everything we've done so far has involved bolting existing motors onto our products. The opportunity is really in fully integrating—and I'm talking about taking the rotor and the stator and literally embedding that around our gearing and differential. That's where we're going."
There are some trucking applications where embedding the electric motor directly into the wheel end makes more sense than the differential carrier, which bulkiness requires a higher vehicle floor. For example, a transit bus or delivery vehicle can benefit from a lower vehicle floor, could benefit from the removal of the differential and embedding the motors into the wheel ends. It comes at a higher cost, but can provide great benefits.
But, if the application doesn't require or benefit from a lower floor, such as school buses which are required to have a higher floor for safety purposes, the electric motor may as well be integrated into the differential carrier in the center of the axle. Conversely, in many off-highway applications, ground clearance is an important feature, and being able to remove the differential and raise the vehicle floor a lot higher is also beneficial.
However, embedding electric motors in each wheel end is inherently more expensive because you need two smaller motors versus one large motor for the differential carrier option. "At this point in time, embedding electric motors in either of the configurations are relatively low volume, so as these opportunities become more popular and drive up volumes, both options will come down in cost," reminds Bennett.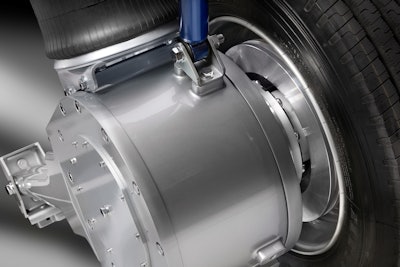 Developing and leading drivetrain system electrification is a corporate initiative that Meritor has taken some major steps to achieve. One key directive was to build up its internal capabilities for advanced engineering, to which Meritor assembled a dedicated electric axle engineering team. The other part was to seek out and partner with external technology leaders in electric motors, and just recently Meritor announced it would be partnering with UQM Technologies Inc. to develop full electric axle systems for medium- and heavy-duty on- and off-highway vehicles.
The alliance calls for Meritor to develop integrated axle components for E-axle technology. The components will be combined with UQM's motor and inverter technology and hardware to create the Meritor and UQM Electric Axle System (MUQM Electric Axles).
The co-developed system will improve the overall package requirements as well as lower cost from integration and offer better vehicle performance. What is helping to drive further development of electric motor technology and integration into heavier duty applications is the strides battery technology has made as well as the significant drop in cost over the past several years.
Hydraulic integration
A product of the joint venture between Dana Incorporated and Bosch Rexroth, hydromechanical variable transmissions (HVTs) from Dana Rexroth significantly reduce fuel consumption by decreasing engine speeds throughout the duty cycle and also at idle, when speeds can drop to as low as 600 rpm.
The HVT systems designed by Dana Rexroth Transmission Systems helps reduce complexity for equipment manufacturers, since the entire system of gears, clutches, and hydrostatic units is managed by an advanced electronic control unit (ECU) and optimized for efficiency by a single supplier.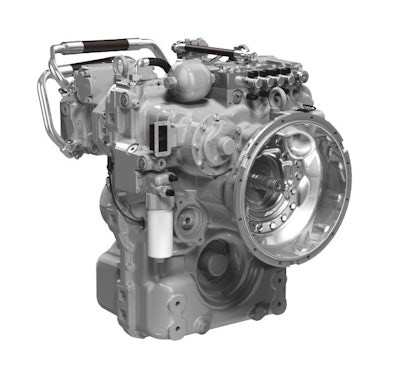 At CONEXPO-CON/AGG 2017, Dana Rexroth Transmission Systems launched a short-drop version of its R2 HVT featuring a modular configuration with a redesigned transmission case that reduces input/output distance and supports power outputs from 130-200 kW (174-268 hp).
The long-drop version of the R2 HVT, initially launched at CONEXPO-CON/AGG 2014, is a modular platform that delivers a full suite of configuration options and software controls, such as direct or remote mounting, flexibility in shift control and drive strategy parameters, and the deployment of up to three PTOs.
Dana Rexroth's HVT powersplit systems have demonstrated fuel savings in the drivetrain of up to 25% when compared with the same vehicle outfitted with a conventional torque converter transmission.
"From the beginning, equipment manufacturers have readily recognized the dramatic increases in efficiency that result from combining technologies from Dana and Bosch Rexroth," says Roland Friedl, head of sales and product management for Dana Rexroth Transmission Systems. "…OEMs are seeing firsthand the unique benefits that can result from integrating hydrostatic, mechanical, and control systems through a modular approach."
Dana also used CONEXPO as a launch pad for new Brevini solutions (read about Dana's recent acquisition of Brevini). The benefit of the Dana Brevini acquisition is the ability to provide the customer with several alternatives of drivetrain architecture.
One challenge with the drivetrain system is how to manage the engine as a power source and balance the split between auxiliary work functions to the propulsion of the vehicle itself. "Optimizing these dual functions is key to the performance and productivity of the vehicle," says Giulio Ornella, Off-Highway Advanced Engineering Manager, Dana Incorporated.
"The new generation of systems that we will have in 3 to 5 years will show a completely different approach to the drivetrain system with much less distinction between the mechanical side and the hydraulics or electronics side."
Limitations and opportunities
"Power is not the problem with electric motors," says Gies. "The problem comes with the limitations of having enough energy onboard a vehicle to perform its specific duty cycle. This is why our systems are customized for each application's quiet operation, packaging, and efficiency requirements.  And working with pioneering companies such as Wrightspeed gives new capabilities of extending stored energy through their range-extended EV platform." 
The range of off-highway applications requires different system solutions. "When you look at a container handler versus a terminal tractor, there are vastly different load, torque and packaging considerations. Our system approach allows for scalable solutions that solve the challenges of each" Gies says.
Another challenge for system optimization is the balance between performance and serviceability. The on-highway experience and knowledge is not a direct transfer for heavier-duty, more rugged and severe environments and applications like the off-road market. "Just by simply merging components together and removing unnecessary parts like bolted joints and fasteners, you can gain advantages in system weight and overall cost. But, it will sometimes come at the expense of serviceability, which is of much more significant value in the higher demands of the off-highway vehicle industry," says Bennett. "You have to be very careful that you don't integrate a system to the point at which it is no longer serviceable."
Laser-welding, for example, is a technique Meritor has been using for on-highway trucks for years, which improves the durability of the gear set on top of the weight and cost savings. When the company evaluated using the technique for some off-highway applications, it found that the vehicle fleets were too frequently replacing gear sets and needed to have easy access to be able to repair them.
There are also opportunities that lay between brake systems and suspensions, an area Bennett claims has not been traditionally investigated. "We see a lot of opportunity in improving NVH by taking a bigger systems approach in looking at all of the responses of the suspension system and how they relate to the inputs from the braking system," Bennett continues.
But what is assuredly the most important of opportunities is the integration of sensors for system data collection. The data can provide notifications prior to system failures, for example, avoiding unforeseen downtime; but also reduce unnecessary downtime from routine maintenance schedules that may be too frequent based on system performance information.
Companies in this article