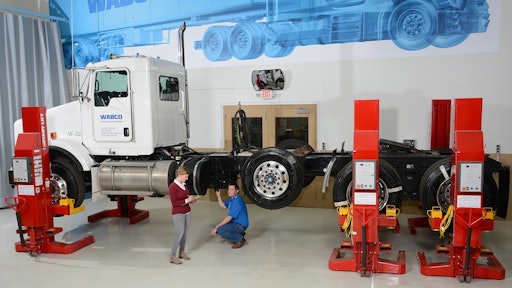 WABCO, a leading innovator and global supplier of technologies that improve the safety and efficiency of commercial vehicles, has recently expanded its engineering capabilities in North America. The company opened a new commercial vehicle development and testing facility in Rochester Hills, MI (USA) to help develop the next-generation safety and efficiency technologies for trucks, buses and trailers.
WABCO has invested $1.5 million and built an advanced 4,400-square-foot site to support the work of more than 50 engineers involved in the innovation and development of new products and systems for commercial vehicle manufacturers and fleet operators in North America.
"We continue to invest in our manufacturing and engineering capabilities in North America to better serve our customers in the region," says Nik Varty, WABCO President, Americas. "The new facility in the Greater Detroit Area enables us to offer seamless support to design, develop and test breakthrough technologies that further commercial vehicle safety and efficiency in the U.S. and around the globe."
WABCO also announced a $17 million investment to build a new manufacturing facility in Charleston, SC (USA). The company will localize the production of its advanced air disc brake (ADB) systems to meet increasing customer demand alongside transferring compressor production to the new facility.