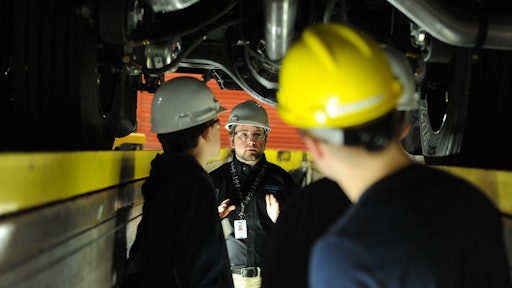 Year-round, engineers at Bendix Commercial Vehicle Systems LLC drive the company's advances in the development and manufacture of its leading-edge commercial vehicle active safety, braking system, and air management technologies. Beyond the Bendix walls, they also contribute to the education and encouragement of future engineers. In marking Engineers Week 2016 – February 21-27 – Bendix honors its engineers, celebrating their ongoing innovation and outreach, and aims to inspire future engineers by helping students unleash their creativity and innovative spirit through engineering.
Engineers Week was established in 1951 to celebrate engineers' positive contributions to society. Observed during the third week of February each year, it is marked by events across the United States.
"Our engineering team is simply outstanding. We take great pride in our engineers at all levels, for the incomparable innovation and determination they put into our safety products and technologies every day," says Richard Beyer, Bendix Vice President of Engineering and R&D. "During Engineers Week, we celebrate not only the passion and dedication they bring to our workplace, but also their efforts to inspire the next generation of engineers in the communities Bendix calls home. They are truly a team that exemplifies the best of engineering's present, reaching enthusiastically toward the future."
Helping Bring Ideas into Reality
Engineer Barb Albrecht, Program Manager for Compressors, has worked regularly with Northeast Ohio engineering students at the high school and college levels, offering project guidance and insight that comes from her 26 years at Bendix.
Working with Project Lead The Way for Engineering at Berea-Midpark High School in Middleburg Heights, OH, Albrecht reviews the efforts of students in the four-year series of engineering courses.
"Everyone likes to come up with a problem and a solution, and then I'll ask a few questions about their diagrams or planning, and then they realize they're using things like which laws of physics to apply," Albrecht says. "And when they get that, it's awesome, because you really feel like you're planting those future engineering seeds."
As a member of Cleveland State University's Mechanical Engineering Advisory Committee, Albrecht serves as a project management advisor to students working on their senior design projects. Her advice often stresses the importance of developing timelines and specific goals alongside the often heady rush of bringing new ideas to reality through prototyping and product development.
"It's good to have that dose of business experience in there, because it's so easy for them to get wrapped up in the books and equations," she says. "This makes it real for them, and gives them a real-world reference for their studies. I also see it as a way of keeping in touch with the engineering community, and helping to transfer my experience to others who are just beginning their careers."
Sharing Engineering Experiences
In Kalamazoo, MI, home of the research and development team at Bendix Spicer Foundation Brake LLC (BSFB), engineering mentors teamed up with 16 other companies and 160 local students for the 2016 Corporate Engineering Challenge, sponsored by the Society of Women Engineers (SWE) of South Central Michigan and other area organizations and businesses. Aimed at getting girls between the ages of 9 and 13 interested in science, technology and math, the challenge was held February 20 at the Air Zoo. The event was also open to the general public.
The day's activities included technology displays and engineering insights from the organizational sponsors (including Bendix), who showcased air disc and drum brakes, as well as stability control and collision mitigation systems. BSFB engineers Katrina Allemang, Rich Hilsbos, Milind Sabarad and Jeffrey Jones shared their experiences with attendees, and mentored a team of eight girls in a friction and weight engineering challenge project.
BSFB is a joint venture between Bendix Commercial Vehicle Systems LLC and Dana Commercial Vehicle Products, LLC.
Encouragement, Excitement and Examples
At Bendix headquarters in Elyria on February 15, the company hosted its annual Discover Engineering event, introducing nearly 50 middle and high school students to engineering. The program, open to children and grandchildren of Bendix employees, offered an overview of various engineering fields, up-close looks at advanced big rig safety technology, and hands-on activities – including a visit to the Innovation Center – where employees explore new ideas and bring them to life.
"There are few better ways to illustrate the possibilities of engineering as a college or career choice than providing a firsthand, up-close experience of what the field can offer, and how engineers can make wide-ranging and long-lasting impacts that can change people's lives," Beyer says. "From efforts like designing safer trucks to pioneering environmentally friendly solutions in manufacturing, we can show kids the power that engineering has to reshape their world for the better."
Recognizing and Furthering Innovation
Bendix also recognized 54 engineers who contributed – individually or in groups – to the 33 worldwide patents granted to Bendix in 2015. The engineers and their spouses, along with Bendix senior business leaders, will take part in the company's annual patent recognition dinner in April.
This year's honorees will include four engineers with more than 100 total patents: Leonard Quin (35), Fred Hoffman (34), Bill Amato (17), and Travis Ramler (17).
"For nearly nine decades, Bendix engineers have consistently pushed technological boundaries and expanded the horizons through their pursuit of engineering excellence," Beyer says. "They have also helped define our culture of stressing training and education, and our emphasis on providing an environment that fosters creativity and knowledge expansion."
Bendix's Engineering Development Program (EDP), established in 2011, is part of the company's progressive approach to keeping its engineers at the forefront of technology development. The Engineering Development Program helps hone engineers' skills in the early stages of their careers by guiding college recruits through a three-year, full-time rotational employment within the Knorr-Bremse Group, Bendix's parent company. Based in Munich, Germany, Knorr-Bremse is the world's preeminent manufacturer of braking systems for rail and commercial vehicles. These rotational assignments expose Bendix engineers to a range of dynamic engineering challenges at a variety of Knorr-Bremse North American and global locations and Bendix facilities.