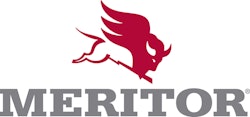 Meritor Inc. has announced a new five-year agreement with Navistar. Under the terms of the agreement, Meritor retains standard position for brakes and rear axles, as well as standard position for front axles in severe service, medium-duty and bus applications.
"This new contract signifies our continued partnership with this important customer," says Chris Villavarayan, President, Americas for Meritor. "As we launch our M2019 strategy this year, this business builds on the strong foundation we've established to supply Meritor products to the leading truck manufacturers around the world and provides further opportunities for growth."
Villavarayan continues, "This five-year partnership also allows Meritor the opportunity to collaborate with Navistar on its Open Integration initiative using future technologies and designs that will provide improvements in the total cost of ownership for our end-user customers."
Companies in this article