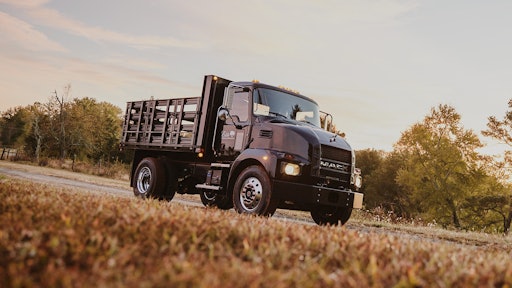 Mack Trucks
In a strategic move designed to deliver more options for applications demanding added power but better suited for medium-duty vehicles, Mack Trucks is expanding its Mack MD Series offering with the availability of the Allison 3000 Rugged Duty Series (RDS) transmissions. Mack previously offered only two transmission choices: Allison's 2500 Highway Series as standard and the optional 2500 RDS.
According to Dayle Wetherell, Mack vice president of medium duty sales, the addition of the Allison 3000 RDS will open doors for customer seeking to do even more with their trucks. "The transmission enables customers to haul more payload and utilize a live power PTO, both of which are critical for our customers desiring a medium-duty vehicle that can handle demanding applications," he pointed out.
The new transmission option will allow the MD Series trucks to take on heavier-duty jobs that require increased power and vehicle weight ratings. The MD Series with Allison 3000 RDS will deliver a 33,000-lb. Gross Vehicle Weight Rating (GVWR), enabling the models to reach into applications such as refuse, recycling, propane and construction. Customers will also be able to pull trailers up to a Gross Combined Vehicle Weight Rating (GCVW) of 45,000 lbs.
"Allison is proud to partner with Mack Trucks to provide our customers with a robust transmission option designed to deliver the optimum blend of power and performance that drivers demand, combined with the proven reliability and durability that our customers know and expect from our fully automatic transmissions," said Rohan Barua, vice president, North America Sales, Global Channel and Aftermarket, Allison Transmission, in announcing the partnership. "The increased ratings enabled by our 3000 Series transmission will increase the MD Series addressable market by approximately 25,000 vehicles annually, expanding vehicle options for Mack's customers and adding breadth of applications to the company's medium-duty portfolio."
Live PTO Adds Efficiency
The Allison 3000 RDS will also supply Mack customers with a live Power Take-off (PTO) feature, which delivers uninterrupted power for higher vehicle efficiency and improved ease of operation. Like the 2500 Series, the 3000 Series will be paired with a Cummins B6.7 engine.
"The ability to have a direct-drive PTO is extremely important for some of Mack's medium-duty customers because they can lift and lower a dump body while driving without worrying about what gear the truck is in," said Tim Wrinkle, Mack construction product manager. "It's also important for snowplows and salt spreaders that need to work at the same time."
Spec'd to the Application
The MD Series is available in 4x2 configurations that provide a sharp wheel cut for enhanced maneuverability in challenging urban environments. Its cab design has a bumper-to-back-of-cab (BBC) measurement of 103 in.
The vehicles can be spec'd as a Class 6 with a GVWR of 25,995 lbs. and a Class 7 with a GVWR of 33,000 lbs. Medium-duty trucking applications include dry van/refrigerated, stake/flatbed, dump and tank truck vocations. The Class 6 model does not require a Commercial Driver's License (CDL) to operate for non-hazardous payloads. Both models are exempt from the 12% Federal Excise Tax (FET).
The Mack MD Series vehicles equipped with the Allison 3000 RDS transmission are expected to enter into production in July 2022. According to Allison, in the coming months, transmissions installed in the trucks will also include Allison's new next-generation electronic controls platform, which feature additional capabilities including advanced communications, functional safety and cybersecurity and over-the-air programming.
Companies in this article