Allison Transmission
To aid customers in the hydraulic fracturing market, Allison Transmission developed a purpose-built transmission called the FracTran.
According to Kartik Ramanan, Executive Director, Global Off-Highway, Allison Transmission, the industry has shifted in recent years from a focus on hydraulic horsepower which requires vast capital outlays to a more disciplined approach. This new approach is focused on being more disciplined with capital spending and emphasizing a return on investment (ROI) as well as return on assets (ROA).
"This focus on increased production efficiency has meant enhanced performance at higher pumping pressures, and improvement in overall Total Cost of Ownership (TCO)," says Ramanan.
Because of these new industry requirements, Allison Transmission decided to develop a new, clean-sheet design transmission which Ramanan says is "more attuned to the current and future needs of the hydraulic fracturing market.
"The result is FracTran, a transmission that is purpose built for hydraulic fracturing and will help our customers maximize productivity and sustainability with high pumping pressures, low total cost of ownership, and unparalleled durability," he says.
Designed for more power and improved operations
Ramanan says the Allison FracTran was developed to be a large, power-dense transmission with higher horsepower capability. It features a power rating of 3,300 hp (2,460.81 kW) and 10,000 lb.-ft. (13558.2 Nm) of input torque. "This rating is based upon current engine peak horsepower requirements," he explains.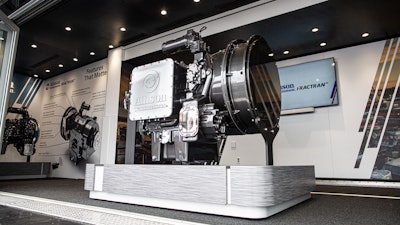 However, the transmission is capable of up to 3,500 hp (2,609.95 kW) with no hardware modifications. "This capability is currently unmatched by competitive solutions in the market," says Ramanan.
Additional features on the transmission designed to help improve capabilities for field operators include:
improved and simplified maintenance and diagnostic connections,
filter and fluid life prognostics,
transmission-mounted control module,
torsional measuring diagnostics, and
an on-rig telematics gateway.
The entire lifecycle of the transmission was taken into consideration while it was under development, says Ramanan. "We increased its overhaul life by increasing the durability of each component. As a result, our customers will not need to replace hard parts like gears and shafts during the life of the transmission."
In addition, Allison Transmission worked to make sure servicing the transmission would be easy for customers when and if it was necessary. Ramanan says the company wanted to ensure servicing would be quick, easy and inexpensive. Ways the company achieved this was by using the same clutch plates for all six clutches in the transmission. This equates to fewer part SKUs a customer may need to keep in their inventory as well as ensuring part availability. Off-the-shelf bearings are also utilized in the transmission which also aids with ease of supply and low replacement costs. "The net impact for service operators is the lowest total cost of ownership in the industry."
Ramanan says Allison Transmission also kept in mind the fact that service operators have different philosophies on how they approach hydraulic fracturing. As such, the FracTran has three different ratio configurations—close, wide and deep—which are designed to fulfill individual customers' specific requirements. He says the availability of three distinct ratio configurations allows for ease of integration and ensures optimized performance under varying operating conditions.
New features meet unique application requirements
According to Ramanan, most of the transmissions being used in hydraulic fracturing are not designed for that application. Typically they were developed for other purposes and later adapted for hydraulic fracturing. Allison Transmission felt it was necessary to design the FracTran specifically for this application to ensure it meets the unique performance requirements of the fracturing industry while also maximizing customer productivity with high reliability and performance under pressure he says.
To ensure the transmission would meet the needs of the industry, Allison Transmission conducted extensive voice of customer surveys as well as analysis of duty cycle information from other products the company has provided to the industry in the past. "The front-end work leading to the design of FracTran entailed a study of market trends and conversations with customers to determine what they needed for the ultimate fracturing transmission solution," says Ramanan. "Customer desires included improved uptime, durability, lower total cost of ownership and features that improved job efficiency."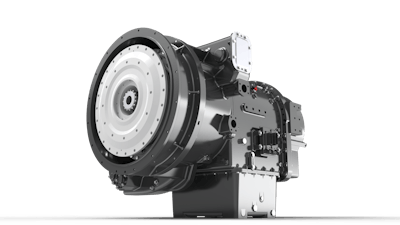 Among the features included on the FracTran to meet the industry's unique requirements is an internal damper which is designed to reduce the shock load components are often subjected to, improving overall durability of the transmission. Allison's torsional measuring diagnostics which monitor down rig torsional activity work in tandem with the damper to create a system capable of withstanding the rigors of hydraulic fracturing.
An on-rig telematics gateway provides machine operators with real-time and historical data to help increase reliability and reduce unplanned downtime which can be costly for customers. Ramanan says inclusion of this technology also helped meet customers' request for detailed prognostic and diagnostic information that would enable them to better anticipate service needs.
Knowing different operators and different regions of the globe require distinctive ratios, Allison Transmission equipped the FracTran to have eight ranges with three gear ratio set options. Ramanan says this will help to meet the varied performance demands of customers around the world.
For customers working in cold climates like those found in northern Canada, a warmup feature is included which enables the transmission to quickly get up to operating temperature. He says the FracTran also features an internal transmission output brake to stop output rotation and allows for a built-in pressure test mode.
Once Allison Transmission developed a prototype of the FracTran, Ramanan says the company conducted a second voice of customer survey to get feedback during which customers said the new transmission not only met but exceeded their requirements.
The FracTran can be utilized in hydraulic fracturing rigs on oil and gas fields in any part of the world. Ramanan says the transmission can be used in trailer mounted or skid mounted rigs, but trailer mounted tend to be the most popular configuration with customers.
"As hydraulic fracturing fleets and operators move towards higher horsepower, smaller spreads to reduce their environmental footprint, and seek shorter times to reach depth in search of improved sustainability, efficiency and profitability, Allison will continue to innovate with them and remain a desired partner of choice for the energy market," he concludes.
Companies in this article