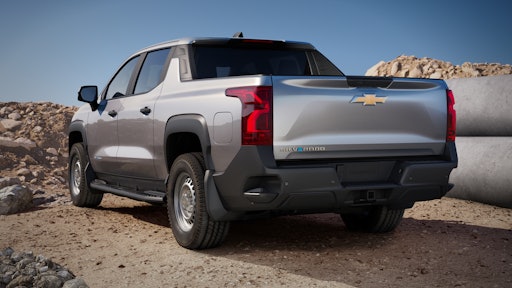 General Motors
After going virtual in 2021, Work Truck Week 2022 returns to a live event in Indianapolis, with education sessions from March 8 to 10 and the Work Truck Show exhibit from March 9 to 11. In addition to enhanced activities centered around electrification and advanced technologies, new electric vehicles are the focus of many of the 27 press conferences scheduled at the event.
Following are just a few of the event highlights. Be sure to check back for further updates as they come in.
All-electric Silverado EV Debuts
Headlining this year's event, General Motors and Chevrolet will showcase the first-ever 2024 Silverado EV all-electric pickup truck at the Work Truck Show. The new model, available initially in Work Truck (WT) and higher-end RST variants, will deliver 10,000 lbs. of maximum trailering capacity, 1,500 lbs. of payload and the ability to provide up to 10.2 kW of off-board power. The pickup features an estimated range of 400 miles on a full charge.
"Standard DC fast-charging capabilities of up to 350 kW enable the Silverado EV to add approximately 100 miles of range in only 10 minutes on public DC fast chargers," says Nichole Kraatz, chief engineer, Chevrolet Battery Electric Trucks. "Two motors provide power to the available 24-in. wheels on the RST improving vehicle responsiveness and control. At the push of a button on the RST Wide Open Watts mode delivers at least 664 hp and an impressive 780 ft. lbs. of torque at the driver's disposal, boasting a 0 to 60 mph time of under 4.5 seconds.
"Our clean slate approach allowed us to create a new body architecture which efficiently leverages the available 24 module Ultium battery pack as part of the fundamental structure, which enables our impressive range," she continues. "This structural design integrates the capabilities Silverado customers have come to expect from a full-size pickup in terms of strength, durability and performance while also providing a more comfortable, confident ride both on and off road."
Read more: First Look at Chevrolet Silverado EV Pickup Truck
Ram ProMaster Sets Sights on the Jobsite
Already targeted to business applications, the 2023 Ram ProMaster introduced at the show takes direct aim at vocational use, including construction jobsites. According to Ram, the latest version delivers class-leading features and comfort packaged with a fresh new exterior appearance designed to meet commercial customer demands.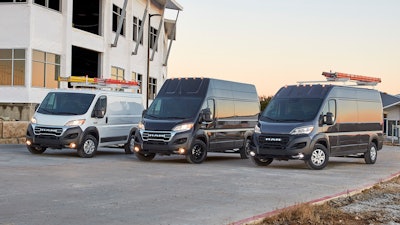 "Ram ProMaster continues to evolve as we listen and respond to commercial customer input, and the 2023 model is a culmination of that effort," said Mike Koval Jr., Ram brand CEO – Stellantis. "Now available in three roof heights and featuring a broad array of safety, advanced technology and connectivity features, Ram ProMaster delivers confidence for hardworking people every day, no matter their line of work."
The 2023 edition features the next-generation 3.6-liter Pentastar V-6 engine paired with the TorqueFlite nine-speed automatic transmission. This combination produces 276 hp and 250 lbs.-ft. of torque. As a result, the ProMaster is capable of towing up to 6,910 lbs. and carrying 4,680 lbs. of payload
To enable customization to virtually any commercial application, the ProMaster includes a standard upfitter electrical connector, integrated cab configuration, unique front-drive system and body-integral construction – all of which allow for enhanced upffiter/conversion solutions. In addition, virtually all primary vehicle systems are packaged forward of the cargo area for even further adaptability.
Read more: New Ram ProMaster Cargo Van Takes Aim at Work Truck Applications
In a strategic move designed to deliver more options for applications demanding added power but best suited for medium-duty vehicles, Mack Trucks is expanding its Mack MD Series offering with the availability of the Allison 3000 Rugged Duty Series (RDS) transmission as an option in this vehicle size class. Mack previously only two transmission choices: Allison's 2500 Highway Series as standard and the optional 2500 RDS.
According to Dayle Wetherell, Mack vice president of medium duty sales, "The [Allison 3000 RDS] transmission enables customers to haul more payload and utilize a live power PTO, both of which are critical for our customers desiring a medium-duty vehicle that can handle demanding applications."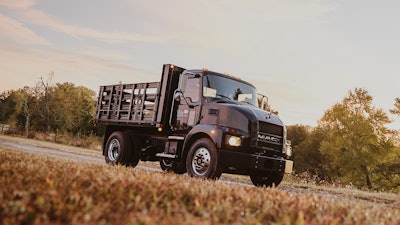 The new transmission option will enable MD Series trucks to take on heavier-duty applications that require increased power and vehicle weight ratings. Vehicles equipped with the Allison 3000 RDS will deliver a 33,000-lb. Gross Vehicle Weight Rating (GVWR), suited for applications such as refuse, recycling, propane and construction. The transmission will also enable MD Series customers to pull trailers up to a Gross Combined Vehicle Weight Rating (GCVW) of 45,000 lbs.
A further benefit of the new transmission option is a live Power Take-off (PTO) feature, which delivers uninterrupted power for higher vehicle efficiency and improved ease of operation. "The ability to have a direct-drive PTO is extremely important for some of Mack's medium-duty customers because they can lift and lower a dump body while driving without worrying about what gear the truck is in," said Tim Wrinkle, Mack construction product manager.
Read more: Mack Pushes Beyond Medium-duty Boundaries with New Allison Transmission Option
Navistar Class 6 to 8 Vehicles Feature Factory Telematics
Navistar announced the standardization of a factory-installed telematics device on all new builds of Class 6 to 8 International Truck and IC Bus vehicle product portfolios, including electric models. According to the company, this move will provide all stakeholders access to actionable vehicle data, enhanced capabilities with industry partners and further improved integration for upfitting capabilities with truck equipment manufacturers.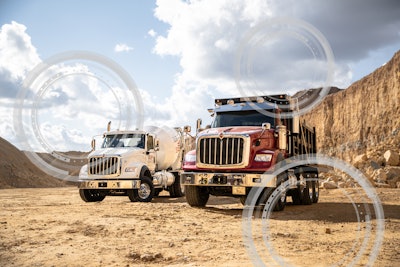 The factory-installed and warranted telematics device broadcasts data to OnCommand Connection, Navistar's connected services platform, which aggregates vehicle health and performance data and turns that into actionable information. OnCommand Connection has more than 30 telematics partner integrations that allow for the platform's unique open architecture to integrate with all makes and models of vehicles on the market.
The data insights gathered are viewable through the OnCommand Connection and the International 360 portal via desktop or tablet, and will be available through a mobile phone app to be released later this year. The app will make the technology more accessible to smaller customers across all market segments.
Read more: Navistar Ensures Class 6 to 8 Vehicles Have a Fully Connected Future
Ford Unveils Fleet-Focused Pro Charging Stations for EVs
Kicking off an event set to showcase a bevy of electrification solutions for fleet professionals, Ford has introduced an all-new scalable lineup of charging hardware for electric trucks and vans at Work Truck Week.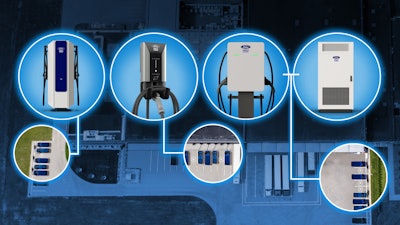 Announced during a pre-show event hosted by Ford Pro, a relatively new and separate business within Ford focused specifically on commercial customers, the charging hardware includes six new home and depot chargers. The chargers are Level 2 AC and Level 3 DC fast chargers that range from 11.5 to 180 kW. The 180-kW chargers are capable of charging up to three vehicles simultaneously.
The announcement comes as the fleet-focused F-150 Lightning Pro trim – announced last May – is set to begin landing at dealerships. The 2022 E-Transit electric work vans are already on their way to dealers.
Read more: Ford Unveils All-New Lineup of Fleet-Focused Pro Charging Stations for F-150 Lightning, E-Transit
IMT Displays Battery-powered Telescopic Crane
Iowa Mold Tooling Co., Inc. (IMT) is displaying a first-to-industry battery powered hydraulic telescopic crane and compressor package alongside its CMD.CTRL system, which introduced as a standard feature for Dominator mechanics trucks earlier in January 2022.
The battery powered hydraulic telescopic crane and compressor package is powered by a Vanair EPEQ power system and ELiMENT battery that enables the crane to be powered even when the vehicle is off. The package operates like a traditional PTO and pump setup, which means there is no need for a full re-engineering of the hydraulic equipment in order to gain the benefits of electrification, according to the company.
The new offering is designed to meet the evolving needs of customers. "Our customers are facing stricter emissions standards and tighter margins," states Tom Wallace, sales manager at IMT. "Electrification solutions help them use less fuel and minimize vehicle wear and tear, ultimately helping their bottom line."
Read more: IMT Displays Battery Powered Telescopic Crane, CMD.CTRL System at Work Truck Week 2022
Stellar Highlights New Hooklift
During Work Truck Week, Stellar featured its next-generation NXT 18 telescopic hooklift. The first telescopic edition in the NXT Series, it features a Z-channel base design and a universal body latching system. The strong, but lightweight unit is capable of loading, unloading and dumping various truck bodies
Built for a Class 4 through 7 chassis, the 18,000-lb.-capacity hoist has a 35.63/54-in. hook height and rectangular-style secondary jib. With approximately a 7.5-in. lost load height, it has a low profile that ensures a lower vertical center of gravity and the ability to accommodate down to 4-in. sub-frame heights.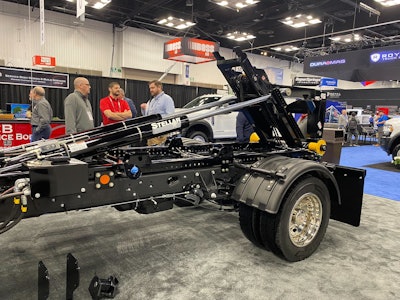 According to the company, the universal body latching system is completely flexible with inside and outside locks that can be moved by unbolting, repositioning and bolting back down. This allows the user to position the body locks in specific locations to accommodate body locks that may not be in the correct spot. For further customization, the universal hydraulic reservoir can be mounted in four different places – the bulkhead mount or chassis frame mount on either the street side or curbside of the unit – removing any work-around needs if there are chassis items that could interfere with reservoir mounting.
Read more: Stellar Highlights New Telescopic Hooklift at NTEA Work Truck Week
Manitowoc Shows Short-chassis National Crane Boom Truck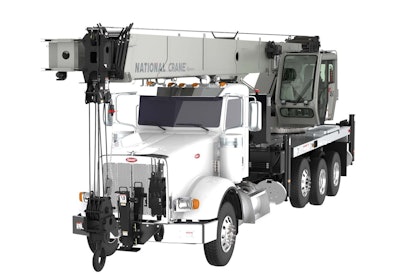 Manitowoc sought to demonstrate how the company and its customers can benefit from feedback gathered from its Voice of the Customer program, as well as highlight the infinite configurations that can be engineered to match a truck and crane to customer needs. The result is a short-chassis version of a National Crane NBT45-2 boom truck, on display at the Peterbilt booth at the Work Truck Show.
The short-configuration NBT45-2 is based on the 2023 Peterbilt 567 chassis. Its wheelbase has been shortened by around 23 in., so the vehicle now measures only 250 in., meaning more flexibility in confined spaces and on congested jobsites.
"Our customers were telling us they needed a 40- to 45-ton (US) capacity crane, but on a more compact chassis than standard," said Bob Ritter, National Crane product manager. "Our application engineers put a lot of effort into fine-tuning the chassis until they delivered a boom truck with a chassis with the tightest turning radius in its class."
Read more: National Crane To Display Short-Configuration NBT45-2 at Work Truck Week
Geotab and Free2move Partner on Integrated Telematics Solution
Geotab announced it is partnering with Free2move, the global fleet, mobility and connected data company of Stellantis, to deliver a Geotab Integrated Solution for Stellantis brand vehicles, including Ram, Dodge, Jeep and Chrysler.
The collaborative solution will utilize embedded telematics in Stellantis vehicles to enable the seamless integration of vehicle data from Free2move servers into the MyGeotab platform. With access to one unified and easy to use telematics dashboard, fleet managers can generate reports and measure key metrics to help optimize fleet performance and improve mobility.
Launching later this year, the solution will be compatible with eligible connected Stellantis brand vehicles including select 2018 and newer models and all 2022 and newer models, through a basic or premium connectivity plan.
Read more: Geotab and Free2move Partner on Integrated Telematics Solution for Stellantis