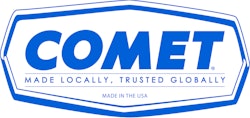 James Grafft of Janesville, WI, announces that he has purchased the assets of PEERLESS Gear from the Consumer Brands Division of Husqvarna. The company joins a family of companies which include Certified Parts Corporation and others, but will operate as a stand-alone entity.
The new company will be called PEERLESS Gear LLC and will take over operations at the PEERLESS plant, located in Salem, IN. All of the related PEERLESS tooling, designs, and intellectual property will also transfer with the sale effective June 1, 2018.
Grafft, the new owner, points out that there are many synergies between PEERLESS and its sister companies; Certified Parts Corporation, Comet (clutches) and TecumsehPower/Lauson (engines). With the support and benefit of the other affiliates' technical expertise, PEERLESS is well positioned to grow sales to the OEM market through increased product offerings. The extensive global network of dealers and distributors assures customer support anywhere needed.
PEERLESS transmissions are world renowned for their durability, power and value. PEERLESS builds transaxles, differentials, gearboxes, and hydraulic pumps and motors for some of the top brands in the outdoor power industry.