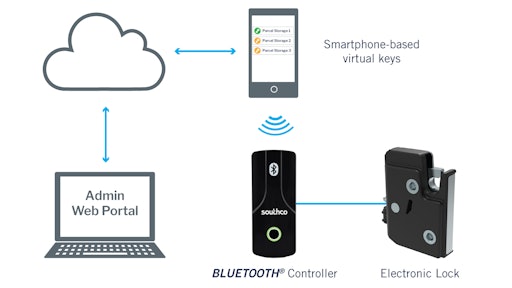 Southco Inc.
The advent of ecommerce and the investments to expand the next-day/same-day delivery model perfected by industry leaders has enabled a major increase in direct-to-home and direct-to-business delivery channels.
The COVID-19 pandemic vastly accelerated the trend — creating a need for new approaches for the moving of goods destined for homes and businesses to "the last mile."
With more people spending their days at home, businesses are investing in new delivery vehicle systems and secure local delivery storage units, as well as prototyping robot and airborne delivery, to make the last mile delivery infrastructure as highly secure and efficient as possible.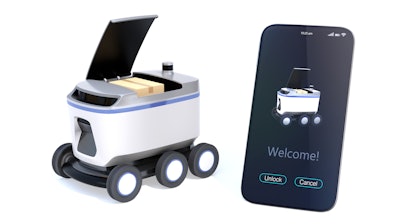 Access hardware offers critical functionality
More packages are being delivered than ever before, and operators must have the appropriate access solutions to keep packages safe from theft and vandalism, both in the delivery vehicle and at the final location.
While security is vital, so is efficiency: Some delivery service drivers estimate they deliver from 250-300 packages a shift, or 20-30 stops per hour, depending on the weather and the routes being driven1.
Exiting and entering the vehicle often presents a critical challenge for latching and locking mechanisms: if it takes a few seconds each time a delivery person enters the vehicle or accesses the storage area, lost time can quickly add up.
However, it's equally possible that a driver will have to completely leave the vehicle unattended to deliver one or several packages into a location, or drop packages to several units in a condo or townhouse development. The unattended vehicle is filled with valuable goods and must be locked securely, including doors in the front cabin, any door between the cabin and the storage area and large doors in the rear of the vehicle.
The right access hardware can play a critical role in providing both security and efficiency to last mile delivery vehicles. Today's leading locking and latching providers serving the automotive and delivery vehicle industries typically offer broad portfolios of electronic mechanisms.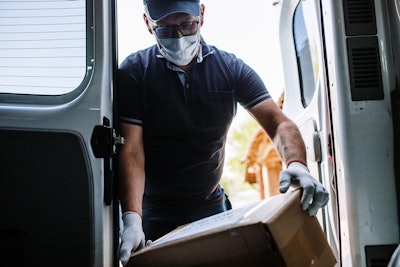 Efficient access control
Electronic locks provide a range of access options: push-buttons using numeric codes, electronic key fobs similar to those used on passenger vehicles and locks that incorporate proximity sensors that automatically react to the presence (or absence) of the key fob.
These proximity sensor options can be particularly useful in last mile delivery applications. Many electronic locks incorporate interfaces that enable them to be easily tied into a vehicle's electronic communications bus, which typically use the CANbus protocol. When a driver pulls up to a stop and puts the vehicle in park, a signal is automatically sent to unlock the bulkhead or rear vehicle door so the driver can pull the packages for delivery.
Once the driver closes the door and walks away, all the vehicle's doors lock automatically, When the driver returns, the doors could unlock automatically or wait for the driver to hit a button on the key fob. This technology can be easily customized so that, depending on the location where deliveries are being made, if the driver is five steps away from the front door of a townhouse, then the doors don't need to be closed and locked.
This is efficient security: when the vehicle and its valuable cargo need to be secured, it can be done with maximum efficiency. These electronic locks come with a variety of dimensions and can be easily integrated into existing vehicle door designs.
READ MORE: Electrification Offers New Possibilities for Equipment Access
Design considerations for electronic locking
Many electronic access technology suppliers have portfolios covering price ranges and with materials ranging from all-plastic to all-metal construction. It's important to assess the reliability and life cycle performance commitments for these devices.
In delivery vehicles, locking/unlocking cycles could repeat hundreds of times a day. When selecting electronic locks, it makes sense to consider latching mechanisms that can demonstrate reliable operation for 150,000-250,000 cycles; some manufacturers are working to raise that number to half a million, or even a million cycles.
Electronic locks use power, so it's also important to assess how much power each locking mechanism requires; this is especially important as more and more delivery fleets are shifting to EV delivery vehicles. Any vehicle component that draws power has to be taken into consideration, so electronic locks that are reliable, yet low power provide useful options.
Some companies offer integrated electronic swing handles, with door handle and electronic lock in a single package. These feature an efficient microprocessor-controlled gear motor that ensures minimal power consumption and provides intelligent locking and monitoring capabilities.
They can be used as stand-alone devices and often offer a variety of access options, including push-button, key fob, proximity and Bluetooth readers. They can also be integrated as part of a vehicle's complete electronic access system for remote monitoring and audit trail reporting.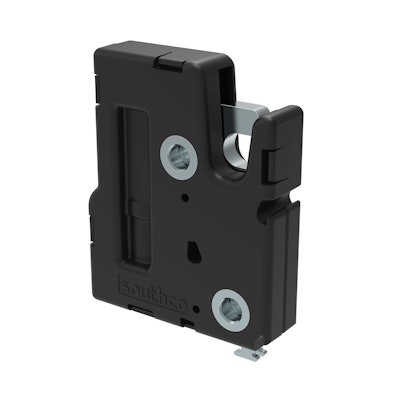 Securing delivery vehicles with electronic access
An electronic access solution is composed of three primary components: an access control or input device, an electromechanical lock and a system for monitoring the status of the access point. Electronic access platforms offer security with a range of price points and design features. The most basic form is a simple RFID card supplied to drivers on an ongoing basis.
However, these cards can be lost or stolen. The most secure access credential — which is gaining widespread use — supplies an electronic, time-based key via a mobile app on a driver's smartphone.
Throughout the day, the driver actuates any electronic locks they need to control via a secure Bluetooth connection. An audit trail is established through cloud-based access controllers to document who accessed the vehicle or delivery storage unit, for how long and what was delivered. These tools can complement the driver's existing hand-held scanners that track the package delivery.
Electronic access platforms with cloud-based audit tracking can also support driver key fobs as access devices. This provides a valuable tool for fleet management. In many delivery operations, a driver may be assigned to different vehicles each day. Rather than having to swap key fobs between drivers, an electronic access platform can update vehicle locks to recognize the key fob or smartphone credentials of the driver assigned to that vehicle.
Electronic access systems can also be useful for protecting valuable packages within the storage area of the vehicle. For high-value products such as fine jewelry or expensive electronics, special storage compartments fitted with an additional electronic lock can be installed with a separate Bluetooth-based access code.
READ MORE: Southco R4-EM 9 Series Electronic Rotary Latch
There are also simple, cost-effective hinge technologies that can make delivery vehicle storage areas more easily accommodate the wide variety of package sizes and shapes being delivered.
When everything from simple, small packages to golf clubs or new skis need to be stored, fixed shelving units can force packages to be stacked in the walkway. There are low-cost torque hinges that can be installed on shelving to make it easy to lift one or two shelves up and have them hold in the upright position, allowing larger packages to be safely stored and handled.
Parcel lockers, drones and robots
Innovative new last mile delivery concepts are becoming more and more ubiquitous — and each has unique access considerations. For example, in urban areas or large apartment or condominium complexes, automated parcel delivery terminals are rapidly being deployed.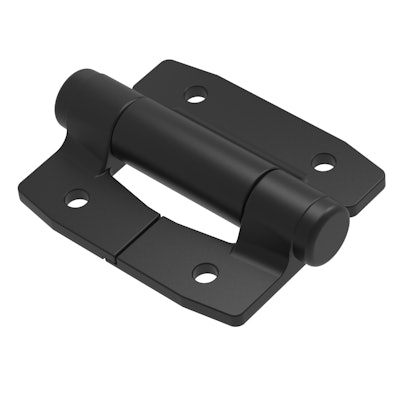 Also known as parcel lockers, these terminals are popular because many people prefer to have packages left in a secure location rather than a building lobby or front steps. They also provide a convenient way to return parcels through the same logistics path.
This equipment requires a high level of security and audit trail tracking. Leading access hardware suppliers have been working with locker designers to create cost-effective latching systems that can incorporate electronic access in limited spaces.
Security comes in two ways: the delivery person can use a smartphone app to actuate any lockers that need opening for packages to be delivered. The package recipient will then have a separate electronic access code supplied via smartphone app to retrieve their packages, and the electronic access system will have an audit trail of the drop-off and pick-up.
Although they are still in the development and prototyping stage, robotic and drone-based delivery systems are becoming a more realistic last mile delivery option.
Both systems will require reliable electronic access mechanisms that provide both efficiency and tracking, typically through digital audit trail systems. For both drones and robots, weight, mechanism size, low power consumption and reliable life cycle performance of the locks are all critical considerations.
Balancing these considerations can be a complex challenge. Attempts to custom-engineer complete electronic latching mechanisms from separate suppliers can add time and cost to development efforts.
A key source of support and creative solutions is an access hardware supplier with extensive experience addressing both functional and aesthetic challenges. They can often draw on existing portfolios and design concepts to help solve these critical engineering and design challenges.
Choosing a proven supplier can help ensure that no matter what platform — truck, van, drone or robot — is used to complete the last mile, the most efficient, secure and reliable electronic locking mechanisms can be supplied to meet the needs of each unique application.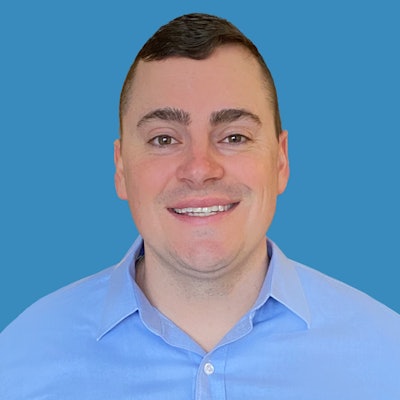 [1] Customer Questions & Answers – Amazon.com
This article was written and contributed by Travis Krell, Business Development Manager, Transportation, Southco, Inc. and Mike Fahy, Commercial Product Manager, Electronic Access Solutions, Southco, Inc.
About the authors
Travis Krell is a Business Development Manager, Transportation for Southco, Inc., where he oversees commercial programs for Southco's Automotive, Heavy Truck and Specialty Vehicle customers and drives new business. He holds a Bachelors of Science in Mechanical Engineering from the University of Delaware, and a Project Management Certificate from Penn State University.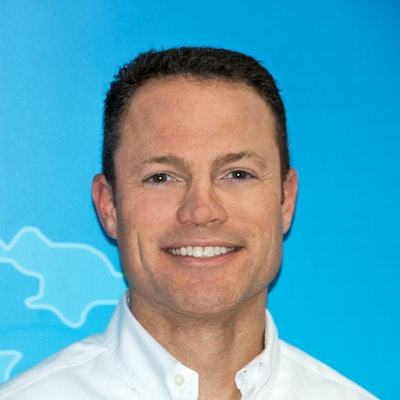 Mike Fahy is Commercial Product Manager for Southco's Electronic Access Solutions (EAS) division. He has over 28 years of experience working in various roles supporting Southco around the world. Fahy focuses on solutions for data center rack level security, from self-contained to fully-networked access control systems. He holds a Bachelors in Mechanical Engineering from Drexel University and is a member of AFCOM.
Companies in this article