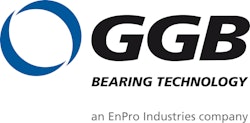 A new YouTube video from GGB Bearing Technology demonstrates how the company's patented two-piece, doubled-flanged solid polymer bearings work.
Called FLASH-CLICK, the new bearings feature a special geometry for easy manual or automated installation without the need for pilot or assembly tools. Their two-piece construction facilitates installation from different directions, and by allowing bearing housing tolerances to be reduced, they reduce total system costs.
The bearings are available in all nine of GGB's EP series of lightweight, corrosion-resistant solid polymer materials, which provide low friction, high wear resistance and noiseless operation. These properties, coupled with the bearings' innovative design, make them suitable for replacing more costly bearings in many applications.