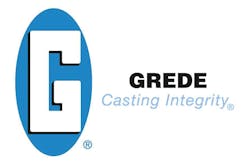 Four Grede manufacturing facilities have been named finalists for the Wisconsin Corporate Safety Awards. The factories are in Berlin, Menomonee Falls, Reedsburg and Wauwatosa. The Wisconsin Corporate Safety Awards program honors businesses for exemplary safety records, and excellence in safety and health management. The awards program is co-sponsored by the Wisconsin Safety Council and the Wisconsin Department of Workforce Development. Grede will be recognized at the Wisconsin Safety Conference in April.
"Safety is our top priority and our environmental, health and safety record is among the best in the industry with results significantly better than the national average," says Todd Heavin, Chief Operating Officer, Grede. "We are proud to be recognized by the State of Wisconsin." 
Grede was selected as a finalist based on a review of statistical data related to the company's incident rates for the past three years, with an emphasis on the most recent full calendar-year data.
Grede facilities have been consistently recognized for their safety practices, including prestigious Gold, Silver and Safety Commendation awards from the Liberty Mutual Group, and the American Foundry Society's Safety Awards. Grede has also been nominated for Wisconsin Manufacturer of the Year.