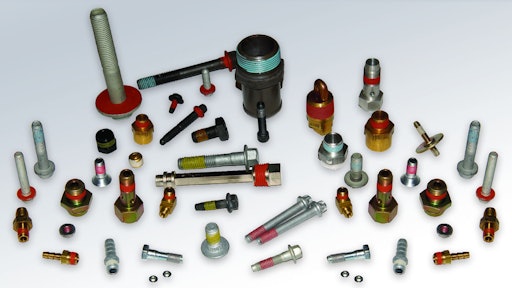 With its commitment to smart chemistry solutions, Henkel has reformulated its LOCTITE Dri-Loc pre-applied threadlockers and pre-applied anti-seize with a sustainable biocide and removed formaldehyde. These adhesives are designed for excellent resistance to vibration loosening on any threaded fastener, such as nuts in various automotive applications, including chassis, powertrain and interiors. A complete range of products for specific customer applications is available with various strengths, temperature resistance and lubricating properties. With these innovative OEM-approved solutions, there is no need to apply adhesives, sealants or any other locking or sealing device during assembly.
The LOCTITE 200, 201, 202, 203 Dri-Loc Eco threadlockers and pre-applied anti-seize contain microcapsules within the dry-to-touch coating. When the threaded parts are assembled, the micro-capsules will crush and release the active ingredient, and the adhesive will cure similar to a liquid anaerobic. As a result of the new formulation, vapor out gassing is eliminated, worker safety is improved, and the product shelf life is extended. Additionally, they have the same performance and strength as the previous version, making them well suited for high-volume production line assembly systems.
"Henkel is committed to sustainable solutions for our customers," says Scott Pergande, Director, Henkel Adhesives Technologies, Automotive, North America and Latin America North. "Our development teams are devoted to enhancing our products, such as LOCTITE Dri-Loc Eco to make them environmentally safer and provide process friendlier solutions for various automotive threaded part applications."