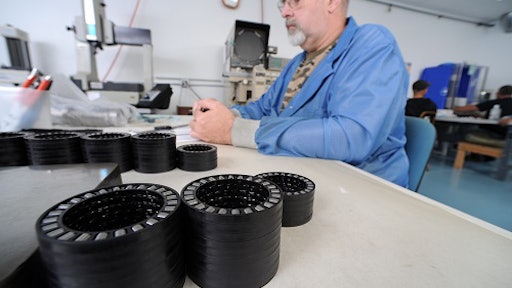 Napoleon Engineering Services (NES), a leading ISO9001:2008 and AS9100C certified custom bearing manufacturing, bearing inspection, and bearing testing facility, as well as custom bearing test rig manufacturer, has announced the recent expansion of its bearing inspection services to include enhanced source qualification inspection (SQI) with bearing contact stress analysis.
The new NES standard SQI test program allows a customer to qualify new suppliers through a series of extensive, independent bearing inspections. This empirically derived data collection methodology is a helpful tool for OEMs in a variety of industries, helping them to determine design integrity, manufacturing capabilities, and workmanship quality among various suppliers. This in-depth look into bearing stress levels helps to ensure effective bearing performance. Resultant data allows for open communication between OEMs and bearing manufacturers regarding design and manufacturing characteristics, leading to time and cost savings, via elimination of potential field replacement costs. For OEMs who model bearing performance, enhanced SQI data can further provide a more in-depth bearing stress profile through access to an extensive series of available models. This further assists in the procurement of an "ideal bearing" for a given application.
This unique program includes dimensional inspection, with full boundary dimensions and internal geometries; workmanship quality assessments through noise testing, visual inspection, surface finish and internal geometry evaluations; and material integrity assessments, via collection of material chemistry, microstructure, cleanliness, and hardness data. The enhanced program complements a typical SQI standard program, with a computational assessment of stress distribution within the bearing based on cumulative raceway and rolling element profiles for roller bearings.  Bearing stress distribution along the contact surfaces can be assessed using different load and misalignment conditions to determine which bearing design or manufacturing practice puts the OEM in the best position for success. Custom inspection plans are also available upon request.