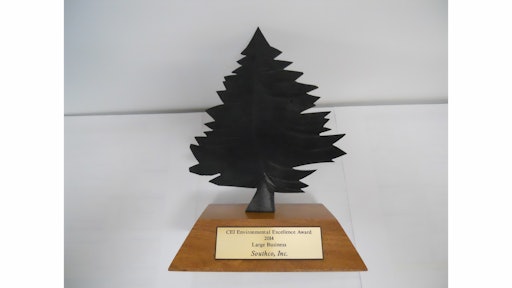 Southco Inc. announces that its Honeoye Falls, NY, facility has received a 2014 Center for Environmental Initiatives (CEI) Excellence Award. Excellence Awards are given to organizations that demonstrate an outstanding commitment to the environment by implementing effective changes in such areas as internal processes, product and service designs, marketing initiatives and educational programs. Awards are limited to organizations located in the Greater Rochester and Finger Lakes Region.
The Honeoye Falls facility was recognized in the Business/Manufacturing Sector category for a number of activities that demonstrate the company's commitment to environmental preservation and improvement. These activities include:
Removal of leaded steel from turned parts: Since 2012, the company has eliminated 1,800 lbs. of lead from its turned parts. Currently, only lead-free steel is used in the manufacture of turned parts.
Oil recycling/reclaim system: Honeoye Falls has reduced its annual consumption of virgin oil by nearly 3,000 gallons by identifying an oil that functions as both a lube and machine oil. The oil is reclaimed from the scrap generated by screw machines and is then reintroduced into the machines to conserve resources.
Waste reduction: The Honeoye Falls facility has improved its recycling ratio (the amount of waste diverted from the waste stream over the total amount of waste generated) from 89.4% in 2010 to 94.9% in 2013.
Lower electrical consumption: The consumption of electricity at Honeoye Falls is trending downward, with a 7% reduction in consumption since 2010. A New York State Energy Research and Development Authority (NYSERDA) Flextech benchmarking study conducted in 2013 is helping the facility identify opportunities to continue the trend.
"Each of these activities speaks to Southco's ongoing efforts to understand and influence the environmental impact of our facilities, both in Honeoye Falls and around the world," says Tom Crego, Operations Manager, Southco. "In the spirit of continuous improvement, we put great emphasis into identifying opportunities to reduce consumption of natural resources and raw materials, improve process efficiency and minimize our environmental impact. We are honored to be a 2014 recipient of CEI's Excellence Award, as it reinforces our commitment to an enriched environment that benefits our employees, our customers and the communities we serve."