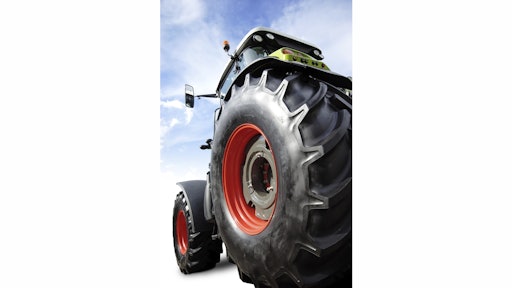 Tata Steel, Europe's second-largest steel supplier, has launched a new bespoke hot-rolled formable steel grade for manufacturers producing wheel rims for vehicles such as tractors, cranes and wheeled excavators. This new product, DD13WR, offers improved manufacturability and has been developed specifically to meet the needs of major customers with particular requirements across their key global off-highway markets.
Typically, the wheel rim manufacturing process includes a number of steps: forming, flash-butt welding and, often cold, ring rolling which imparts high stresses on the steel during production. The failure of welds and splitting – typically on the fusion line – during the post-weld forming process, results in an increased need for manual inspection and either significant reworking to remove the defect or scrapping of the wheel. These outcomes naturally have a negative impact on efficiency and yield, both of which ultimately increase manufacturing costs. DD13WR was developed in response to this problem by identifying that a defect seen during wheel manufacture was similar to that witnessed by Tata Steel in both rail flash-butt welds and tube HFI (High Frequency Induction) fusion welding.
Tata Steel was able to use its experience and expertise in these other product areas and apply what it had learnt to strip products. Samples of weld failures were received from numerous customer sites across Europe and analysed at Tata Steel's R&D center in Rotherham, UK. The solution was to create a new grade which features a cleaner, more tightly controlled chemistry. The focus of the product development was on improving welding performance through optimising the chemistry, including reducing the sulphur levels to improve the formability after welding, significantly reducing splitting failures and rejections.
The reduction in the amount of product that is rejected offers an improved yield performance to the customer and the new steel grade provides added value to customers by delivering improved efficiency in their production operations. This has been validated by a series of customer production-line trials conducted on numerous different lines that have seen reduced rejection rates.
The product name alludes to the application and the benefits the new grade offers with "WR" referring to both wheel rim and weldability and reliability.
DD13WR is available now from Tata Steel's Port Talbot plant in South Wales and can be supplied in either coil form or processed plate via Tata Steel's distribution facilities in the UK and Europe.
Phil Clements, Sales Director of the Lifting and Excavating sector said, "Our customers are under constant pressure to improve their products and to remain competitive. By working closely with them to establish their needs we can support them in this goal. The DD13WR development is yet another example of how these relationships enable us to generate the products that the industry needs."