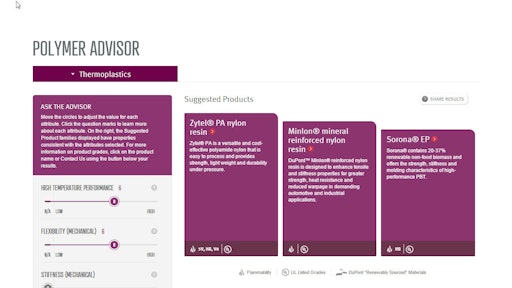 A new online Polymer Advisor tool developed by DuPont Performance Polymers can help plastics professionals narrow the choice of which high-performance thermoplastic family to consider when designing a new component or system.
The DuPont Polymer Advisor can be used on smart phones, tablets or laptops to help users select thermoplastic materials.

The tool allows users to select from up to 10 critical performance properties, including temperature performance, stiffness, flexibility, conductivity, hydrolysis resistance, wear and friction. Based on performance requirements, the tool evaluates and ranks 13 DuPont thermoplastic families from which to choose, including DuPont Zytel nylon, DuPont Hytrel TPC/ET and DuPont Vespel parts and shapes.
"Selecting a material is a critical part of the application development process," says DuPont Senior Technical Consultant Dan Saunders, a 34-year DuPont veteran and one of the experts that helped shape the tool. "Material performance and design attributes are best considered early in the design stage so design engineers can take full advantage of the benefits of using a thermoplastic material."
During user testing customers said that they could see how this tool would be useful in pointing specifiers in the right direction early in the design process, thus saving time or missteps. According to Saunders, "In the last two years, I've seen many new faces in this industry and they want help getting started. This tool will be a quick reference for helping them to match their performance requirements with products in the DuPont plastics portfolio."
The Polymer Advisor helps material specifiers get closer to a good starting point prior to discussions with DuPont technical and development experts or reviewing technical data in the DuPont Product Profiler. "The idea is to provide guidance and make the first contact with us most productive," says Saunders.
In addition to the online tools, DuPont Performance Polymers provides expert support throughout the application development cycle, which includes materials selection, simulated design, predictive engineering, processing support, prototyping and testing.
DuPont Performance Polymers works with customers throughout the world to help improve the performance, sustainability and cost of components used in automotive, aerospace, consumer electronics, health care, medical and other diversified industries. DuPont supports product development efforts with more than 40 manufacturing, development and research centers and technical teams to help ensure ideas can go to market quickly and cost effectively.