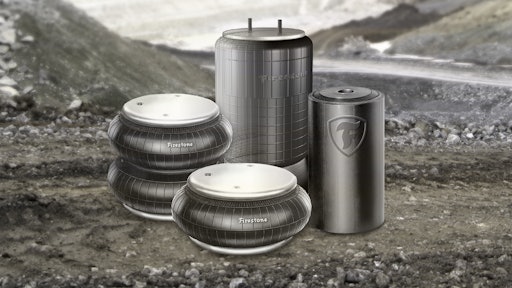 Firestone Industrial Products, LLC (FSIP), known as one of the world's leading suppliers of air springs for the transportation industry offers more than that: The company's product range includes powerful solutions for construction and mining as well as for industrial applications. Firestone air springs and Marsh Mellow spring solutions are often a superior alternative to pneumatic or hydraulic cylinders or coil springs.
Whether in driver's cabs, engines or other industrial devices, excessive vibrations put a strain on components, resulting in expensive and time-consuming downtime and repairs. The vibrations and associated noise also cause stress for the vehicle drivers and machine operators, who are usually exposed to these disruptive factors for hours.
At the coming bauma, the world's leading show for construction, April 8–14, 2019, in Munich, Firestone will highlight its product range for these demanding applications. Firestone is co-exhibitor at the booth of parent company Bridgestone (hall A6, stand 218). Firestone's technical experts and application engineers will be available at the booth to explain and discuss the company's vibration isolation and pneumatic to hydraulic application product solutions.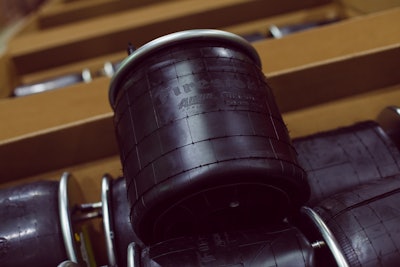 In the mining and construction industries, Firestone Airmount air springs are mounted in conveying, material handling, concrete production equipment and in sorting applications.
Marsh Mellow fabric-reinforced rubber cylinders are commonly used for vibration isolation in mining, construction and recycling equipment. They are virtually indestructible and do not need to be inflated with air. They protect systems from the effects of structurally transmitted vibrations and are an effective passive isolator with superior characteristics to steel springs. Marsh Mellow springs are perfectly suited for equipment such as vibrating screens.
Graham Brookes, Director of Technology at Firestone Industrial Products, comments, "Our aim at bauma is to further raise awareness of the great benefits of Firestone's air springs and Marsh Mellow springs. They are designed for reliable, durable function under the most challenging conditions. And, moreover, we are committed to customer orientation. That's why we're innovating to continuously improve the vibration characteristics of vehicles, machines and equipment, and provide our customers with tailor-made solutions."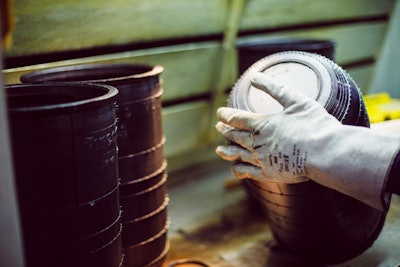 FSIP is a preferred development partner and original equipment producer for leading vehicle and machine manufacturers. Together with the manufacturers Firestone experts are specifying which solutions best meet customer requirements. Firestone Industrial Products are manufactured globally in an ISO-certified, quality-controlled environment.
FSIP is part of Bridgestone, the world's largest tire and rubber company, and benefits from its expertise, research and development efforts.