Southco Inc., a global leader in engineered access hardware solutions, announces that Acument Global Technologies Inc. (Acument), a leading supplier of mechanical fastening technology, has chosen Southco's Honeoye Falls, NY, facility as a 2018 recipient of its TORX Drive System World Class Quality Award for fasteners for a second consecutive year.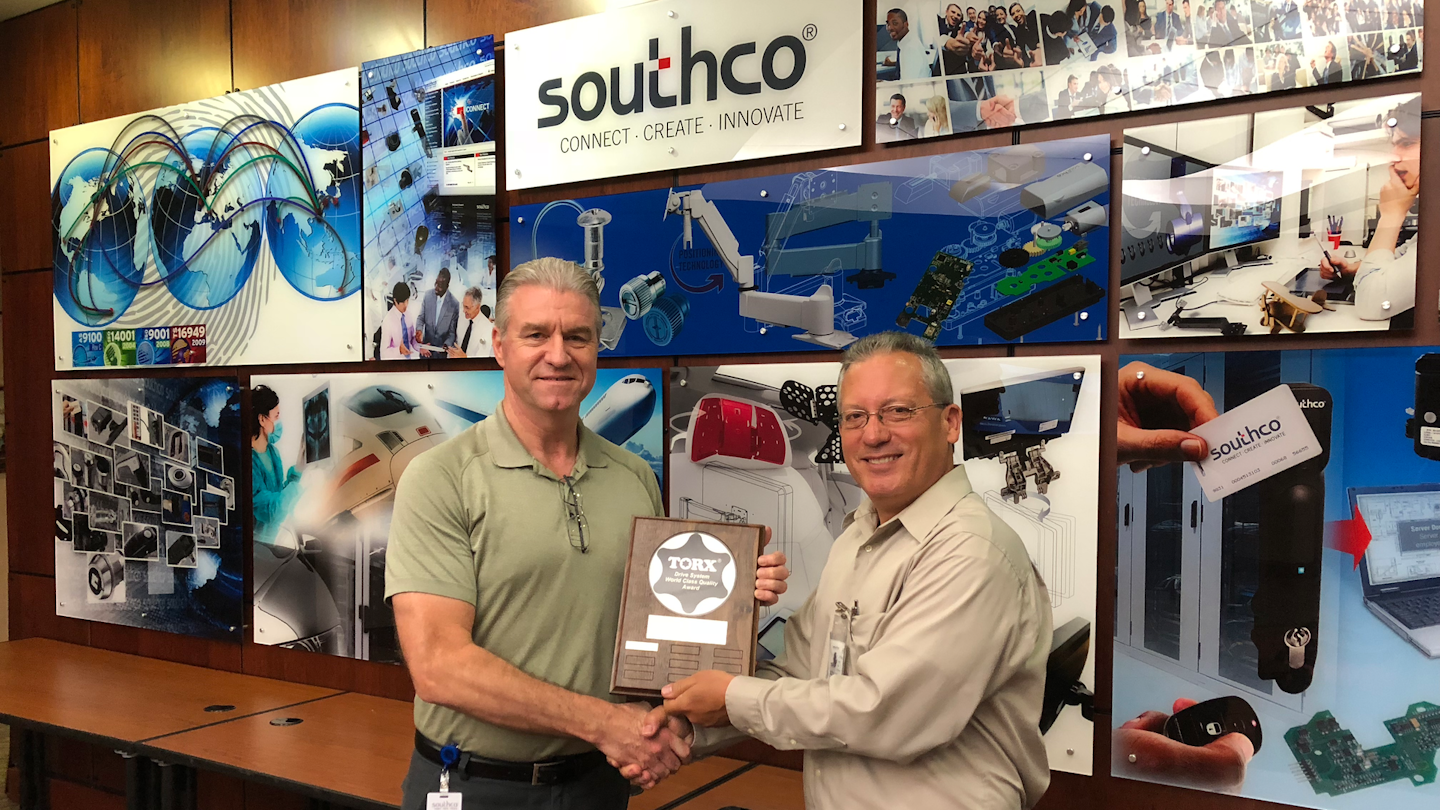 Jim Wayman, Acument Global Technologies, Inc. and Mark Eggleston, Director, Global Manufacturing Development, Southco, Inc.
As one of the largest and longest-running intellectual property licensing programs in the fastening industry, Acument established the annual award program in 2005 to recognize its high-performing, qualified licensees who demonstrate the greatest commitment to manufacturing high quality, authentic TORX fasteners and tooling during the previous calendar year.
Considerations for the award include 100% acceptance on audits submitted within the year, at least three different parts submitted within the year which were manufactured by the submitting licensee and samples submitted within 60 days of request Manufacturers must be a licensee for 24 months and be in good standing, with TORX gages submitted for re-certification within the previous 2 years, and must be certified to national or international standards comparable to ISO 16949, ISO 9000 or QS 9000.
Southco has been a TORX licensee since 1997 and is one of eight drive tool and 24 fastener manufacturers representing the countries of China, Germany, Japan, Malaysia, Singapore, Spain, Taiwan, and the United States to receive the award for their 2018 performance. Qualified licensed manufacturers apply Acument's TORX and TORX PLUS drive systems for applications in Automotive, Industrial, Electronics, Aerospace and other markets.
"We are pleased to be recognized as a world class supplier for the second year in a row by one of the leading mechanical fastening technology businesses in the world," says Anthony Wood, Vice President of Operations, Southco Inc. "By incorporating the TORX Drive System into the products manufactured at our Honeoye Falls, NY, facility, Southco is able to deliver the highest levels of quality and performance to our customers."