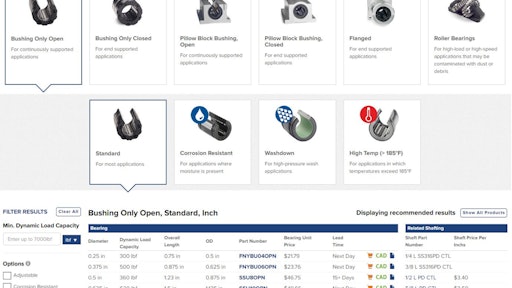 Thomson Industries Inc., a leading manufacturer of mechanical motion control solutions, has announced availability of an online tool that streamlines the selection and purchase of linear bearings. This addition to the Thomson website enables design engineers and system integrators to zero in on the right bearings for their applications in mere minutes.
"Linear bearings, including Linear Ball Bushing bearings, are among our most popular products, and we want to be sure that our customers can find what they need in the way that is most efficient for them," says Charles Isaac, Product Line Manager – Linear Bearings and Guides at Thomson. "After interviewing numerous bearing users, we found that an increasing number want to buy online, and when they do, they expect the same ease of use they get from retail sites like Amazon. We created this new capability in close collaboration with those customers, and our continued testing shows high acceptance."
Thomson offers the world's largest selection of inch and metric linear bearings and is the inventor of the Ball Bushing bearing. These are used in applications that benefit from the noise reduction and vibration control of a bushing, and the low-friction and long-life capabilities of ball bearings, including packaging machinery, medical equipment, automation equipment, electronics manufacturing, and machine tooling. With the new online selection tool, machine designers and builders can find the configuration that is right for their application with just a few clicks.
Streamlining bearing selection
The process begins with the selection of "Linear Ball Bushing Bearings" from the visual, application-based product menu on the Thomson home page. This returns images of main bearing types, including open or closed plain bushings, open or closed pillow block bushings, flanges and roller bearings. Selecting a bushing type reveals a set of four images on which users click to designate standard, corrosive, washdown or high-temperature operating conditions. This choice reveals a single table showing all available dimensions, load capacities and part numbers. To narrow their search even further, users can take advantage of real-time adjustments as defined by filter parameters ̶ all without leaving the page. Additionally, the online tool provides an enhanced shopping experience with up-front pricing and lead times for all bearings, and suggests accurately sized, related products such as shafting and supports based on search results.
The process typically takes less than 5 minutes and yields an optimized list of bearings that meet the application requirements. Once the user chooses one, they can either add it to a shopping cart for immediate purchase, download a 3D model into their CAD program or download a PDF containing additional details on the product features, benefits and technical specifications. A live customer support person is only a click away to answer any questions.
Continuously improving the online experience
The new linear bearing selection tool is part of Thomson's initiative focused on enhancing its interactive engineering environment and user experience. Similar capabilities are in the works for other Thomson products, along with a concurrent project to update and republish configurable 3D models for all Thomson products.
The company recently introduced its Linear MOTIONEERING Online Tool to aid engineers in accurately sizing and selecting electric linear actuators.