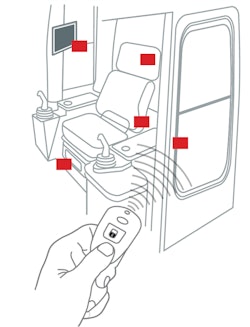 Off-highway equipment design takes many factors into consideration. From rugged worksite environments to harsh vibrations, and sealing and operation issues caused by dust and dirt, the design engineer must address them all. Historically, design needs have centered on the exterior of the equipment, where the greatest operational impact takes place. However, new advances in technology are bringing the design focus to the inside as well – within interior cab and chassis enclosures.
As technology-focused influences from the automotive industry begin to impact the design process in these application areas, it has become more important than ever to ensure that these solutions meet industry standards and provide robust, quality operation in off-highway environments.
Additionally, off-highway manufacturers are facing challenges with regard to changing industry compliance standards and global supply requirements. Therefore, it is essential for design engineers to choose hardware from a global supplier that uses its proven core technology and engineering expertise as a platform for the incorporation of new technological enhancements.
This white paper will discuss new technologies emerging in the Off-highway industry, examine industry factors affecting off-highway interior and enclosure applications and define best practices for global access hardware supplier selection.