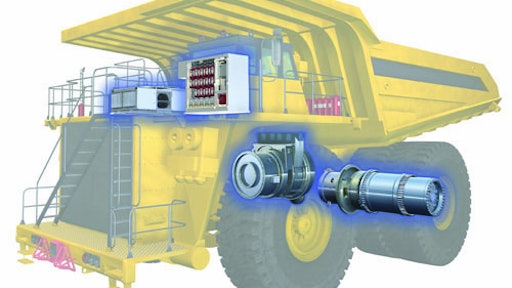 Growing global demand for GE's high-tech products has led to manufacturing expansion and new jobs in the U.S. in 2011. Today, GE Transportation announced it will spend $231 million to build a new manufacturing plant in Fort Worth, Texas, for making electric drive systems for heavy-duty mining trucks and to expand an existing locomotive and mining equipment factory in Erie, Pennsylvania. GE will hire a total of 490 workers as a result of the two-state push. The new facility in Texas is the 16th new manufacturing plant in the U.S. announced by GE since 2009.
GE Transportation has seen strong global demand for its heavy mining equipment this year—so far growing at a double-digit pace. It has reported $2.1 billion in revenues for the first half of 2011, up 45%, and profits at $335 million, up 135%. The GE division has already announced plans to hire for 2,000 jobs in the U.S. in 2011, including 1,100 positions already filled at the Erie plant, which is currently operating at peak capacity for rail and transportation-related products.
GE will spend $95 million on the new factory in Fort Worth and create some 130 manufacturing jobs there by the expected launch in mid-2012. The 236,000 square-foot plant will manufacture and assemble electric motorized wheels powering house-sized mining trucks that top 1.4 million pounds fully loaded. These wheels can be over 13 feet tall and weigh over 100,000 pounds alone. GE invented electric wheel drive systems in 1963 and through constant innovation has remained an industry leader.
In Erie, GE will invest a total $136 million and hire 360 workers. Some $38 million will be used to increase capacity and modernize equipment used to manufacture drive systems for mining trucks, locomotives and other transportation products.
The company will also spend $58 million to build test labs for large-scale diesel engines, and invest in research and testing technology to reduce emissions and improve fuel efficiency of GE locomotives and other heavy-duty engines.
Finally, GE, which has had production facilities in Erie for more than a century, will use $40 million on plant upgrades, site beautification, and a new customer showcase center.
This is the second large investment announced in Fort Worth and Erie this year. In May 2011, GE announced plans to open a $96 million locomotive manufacturing factory. That investment is set to create 500 jobs and further 275 openings beyond 2012. Also in May, GE said that it would add 250 jobs to meet growing demand for GE goods.