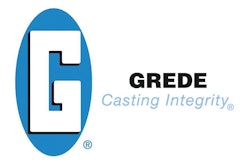 Grede Holdings LLC, a manufacturer of cast, machined and assembled components for the transportation and industrial markets, announces it was awarded a second multi-year contract to supply suspension components to Navistar, Inc. for International MXT Husky Tactical Support Vehicles (TSV) equipped with the MaxxForce 6.0D V-8 turbodiesel medium duty engines.
"Grede is proud to be able to provide the durable and reliable truck components needed for these vehicles that are being used in critical missions in Afghanistan," says Vito Parente, Grede's vice president, sales, Heavy Truck and Industrial. "Navistar has told us that the U.K. Ministry of Defense has placed priority on getting these additional vehicles into use because the MXT provides added protection and mobility to warfighters."
Grede will manufacture the Navistar components at its Browntown, WI, and Biscoe, NC, facilities. Grede also supplies Navistar with ferrous castings from Biscoe, and lost foam castings from its Columbiana, AL, facilities for various truck applications. Grede has a longstanding relationship with Navistar and has won the corporation's Diamond Supplier Award in 2009 and 2010 for excellent performance.