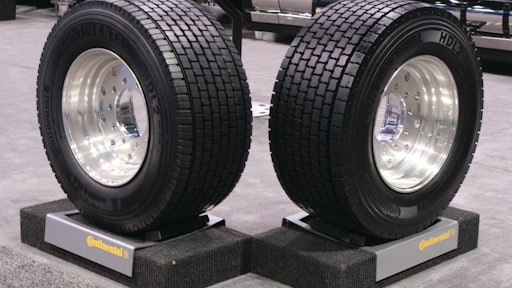 Following an enthusiastic response from the Mid-America Trucking Show, ExpoCam and Facebook, Continental Tire the Americas, LLC's (Continental) Commercial Vehicle Tire Division has listened to the comments and feedback of customers and decided to launch not just one, but two new super single truck tires.
In March this year, Continental invited truck tire customers to visit its booth at the Mid-America Trucking Show in Louisville, KY and leave feedback about two competing designs for a wide single drive tire product on its Facebook page. The company repeated the offer at Canada's national truck show, ExpoCam, in early April in Montréal. After speaking with hundreds of show visitors and reading the comments left for the research and development team on Facebook, director of marketing Clif Armstrong says that Continental will bring both designs to market.
 
"Originally when we invited our customers to give us feedback on the designs for the product, we were envisioning one, wide single drive tire for highway use. However, the response was enthusiastic for both designs – so much so that we knew they both had a legitimate place in our product portfolio," Armstrong says.
 
Continental's original decision, Armstrong says, was to launch a wide single drive tire for long haul, highway use which would replace dual fitments and provide superior fuel economy, exceptional traction and weight reduction. The product labeled "Design 223" on Continental's Facebook photos will be produced for this application as the new Continental HDL2 Eco Plus super single drive tire. It is currently scheduled for November 2011 availability.
 
Continental's director of research and development for truck tires in the Americas, Roger Stansbie, says that the new HDL2 Eco Plus (Heavy Drive Long Haul) in size 445/50R22.5 will feature 27/32nds of tread depth, a closed shoulder and regenerating sipes in the middle of the tread blocks. A three-dimensional sipe in the center of each tread block couples the groove under compression for increased strength, but still allows more block flexibility as the block exits the footprint. The new HDL2 Eco Plus' groove geometry was designed to reduce the stress at the groove bottom by placing the element between the two groove bottom radii. This separates the forces at each side of the groove bottom and reduces premature wear, Stansbie says. The tire already meets the U.S. EPA SmartWay Transport Partnership limits for low rolling resistance drive tires, although it has not been submitted for approval yet, he says.
 
The second product produced will be an additional size for the successful HDL2 DL (Heavy Drive Long Haul, Deep Lug) truck tire, also in 445/50R22.5 size. On the Continental Facebook photos it was labeled as "Design 224." At 27/32nds of tread depth, the HDL2 DL super single tire's tread design was copied from the existing sizes of the HDL2 DL and provides deep tread depth with the excellent traction of an open shoulder, Stansbie says.
 
This tire also features a bottom groove treatment that reduces stone retention and outside groove geometry designed to distribute stress evenly throughout the groove bottom, providing excellent durability. The HDL2 DL wide base also will meet the U.S. EPA SmartWay Transport Partnership limits for low rolling resistance tires in the drive position, he says. Availability is scheduled for mid-2012.
 
"The HDL2 DL super single will be an ideal solution for fleets who want to take advantage of weight savings and low rolling resistance in the mixed long-distance and regional traffic application," Stansbie says.
 
Armstrong says the company was pleased with the response from customers to its invitation to provide design feedback for the new tires, and even more happy that they could act on the requests.
 
"For fleets looking for weight savings, ease of maintenance, greater lateral stability and reduced fuel consumption, Continental now has a truck tire product for each wheel position in the wide single configuration. What is incredible is that not only do we now offer a complete suite of wide single truck tires (both drive and trailer positions) from Continental, but we did so by responding directly to what our customers told us.
 
"Continental is a leader not only in engineering premium truck tires, but also in listening to our customers and providing what they really need. This invitation to provide feedback on our new products was a great way to reach out to our trucking fleets and drivers, and let them know that Continental always keeps their best interests in mind when it comes to tire development," Armstrong says.
 
Both the new drive tires will be initially produced and shipped from the Continental truck tire plant in Puchov, Slovakia, but Armstrong says that molds and presses are already being relocated to the recently expanded Continental truck tire plant in Mt. Vernon, IL for American production.