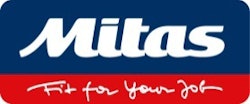 Farm and industrial tire manufacturer Mitas has cured the first test tire at its new Charles City facility, which is currently in the testing phase.
"Mitas can make tires in Iowa," says Pavel Charvat, president and plant director. "This test tire is the first tire produced by Mitas on the American continent. Now, Mitas is tweaking the machinery, streamlining processes and training workers for the Charles City plant to be ready for serial production in April." The exact date of the official opening of the plant and start of serial production will be announced in due course.
"Soon, Mitas will begin serial production and give real substance to the commitment we made in Boone in 2010," says Tomas Nemec, Chairman of the CGS board. Mitas is part of CGS Holding.
"I appreciate the efforts by Charles City and Charles City Area Development Corporation officials and other Iowan authorities to help Mitas make this investment happen," says Vladimir Dusanek, Mitas' U.S. project director. Mitas has earmarked $52 million for the Charles City investment. In 2013, the factory capacity is slated to reach production of more than 12,000 metric tons of radial tires.
Sales of tires in North America reached a record level in the aftermarket and to original equipment manufacturers in 2011, according to Neil Rayson, senior vice president for sales at Mitas' US subsidiary. "Mitas' innovative tires are well accepted by the American farmer. The farmer will be even more likely to accept Mitas tires made in Iowa," Rayson says.