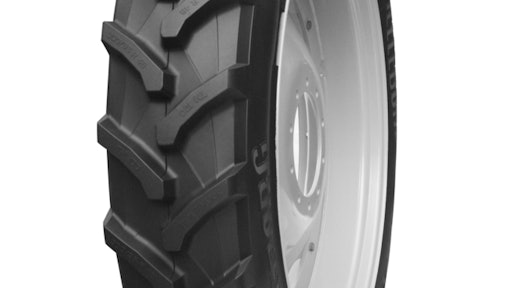 Trelleborg Wheel Systems is a leading global tire developer and manufacturer supplying premium tires and complete wheel systems for agricultural and forestry applications. While the company's advanced tire technology remains the same, Trelleborg adapts its products to local market needs.
All TM tires utilize Trelleborg's unique TM range tread pattern that has been engineered to optimize the tire's performance. It is characterized by inter-lug terracing that gives excellent self-cleaning properties, a higher traction capability under torque conditions and less soil transfer to roads.
Research and development is continuous and Trelleborg's latest products to hit the market are two new sizes in its TM100 range of tires, the 380/90R50 151A8 (151B) and 380/90R54 158A8 (158B.) These are specifically designed for row-crop applications in the U.S. The Trelleborg TM100 range is now available in 11 sizes from 32 to 54 in.
Trelleborg Wheel Systems also recently introduced two new radial sizes into its TM600 range, the 480/8050 159D and 520/85R46 158A8 (158B). The Trelleborg TM600 range is now available in 29 sizes from 20 to 50 in.
"Adding these four sizes to our product offering is important to satisfy both our original equipment and replacement customers," says Marketing Manager Agricultural and Forestry Tires in the U.S., Andrea Masella. "We look forward to the quality of our products and services helping them in increase their profitability even more."
The flagship of the TM tire range is the TM1000. With a height and overall diameter of just over 90 in. and a 46-inch rim, it is one of the largest super single tires ever produced. The TM1000 line is engineered to meet the requirements the new generation of tractor engines and transmissions.
During field operations the tire has proven to provide five to eight percent better traction compared to other premium brand competitors. On the road, premium rolling resistance performance is expected to lower fuel consumption and emissions by 4 to 6% compared to the average for the market.
Not just focusing on tires, Trelleborg recently introduced the THK - Trelleborg High Knurling solution. Specifically engineered for high power tractors, the THK features a new concept of rim that has an advanced knurling design with a higher profile, which boosts performance when the tire is operating at high speed and torque. In addition, a new painting process is used that maximizes the friction characteristics of the rim when the tire is fitted.
"Trelleborg believes that the perfect match between tire and rim plays an essential role in responding to the requirements of increased engine power and modern transmissions in tractors," says Masella.