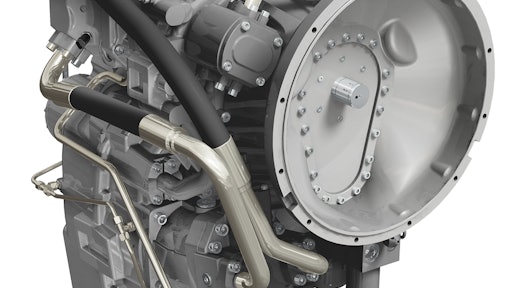 At INTERMAT 2012, Dana Rexroth Transmission Systems unveiled the R3 hydromechanical variable transmission (HVT), the first powersplit system resulting from the 50-50 joint venture between Dana and Bosch Rexroth AG.
Initial tests on front end loaders with the new HVT powersplit systems demonstrate fuel savings in the drivetrain of up to 20% when compared with the same vehicle outfitted with a conventional torque converter transmission.
The first in a series of HVTs, the R3 is currently undergoing field testing in numerous OEM prototype vehicles. HVTs are designed for front end loaders, graders, forestry skidders and other off-highway applications requiring up to 265 kW (360 horsepower).
"Vehicle systems that contribute to improved fuel efficiency are in high demand, especially those that seamlessly fit into existing application designs," says Jeroen Decleer, managing director of Dana Rexroth Transmission Systems. "Dana and Bosch Rexroth have worked together for many years to find innovative solutions to issues facing OEMs, and the HVT R3 clearly shows how this collaboration can accelerate the development and delivery of technologically advanced products for the construction market."
The Dana Rexroth HVT R3 improves productivity by enabling sensitive, precise vehicle positioning and stepless drive with no interrupted acceleration. It occupies the same space within the design envelope as conventional torque converter transmissions while allowing for engine downsizing.
At low vehicle speeds, only the hydrostatic circuit of the HVT is used, allowing for quick acceleration and braking, precise low-speed maneuvering, and reverse without the need of an additional clutch.
As the speed of the vehicle increases, the HVT still employs the hydrostatic path, but a power splitter begins to route engine power through a parallel path that uses the mechanical elements of the HVT. This configuration enables vehicle acceleration with no interruption in tractive force.
The HVT optimizes the operating point of the diesel engine by decoupling engine speed from drive speed, and maintenance costs are reduced by utilizing hydrostatic braking and wear-free directional reversals.
The HVT system helps reduce complexity for equipment manufacturers, since the entire system of gears and hydrostatics is managed by an advanced electronic control unit (ECU) and optimized for efficiency by a single supplier.
The Dana Rexroth HVT R3 is on display in the Dana stand, located at No. 5b J 042.