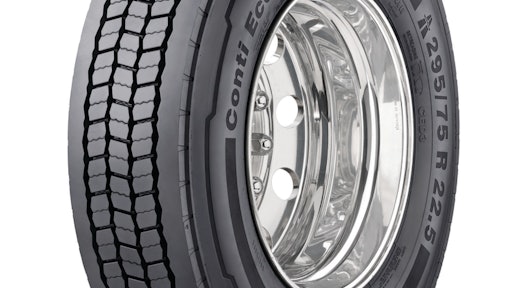 Continental engineers will showcase the latest ways to drive performance for commercial trucks at the Great American Truck Show in Dallas, TX, (GATS) on August 23.
Appearing again at the Continental Tire the Americas, LLC (Continental) Solutions Pavilion, #18136, will be the Untamed Innovation Tour, the 83-foot mobile exhibit of Continental tires, technologies and solutions for lowering the overall driving costs of commercial trucking operations. Included in the pavilion will be an explanation of ContiLifeCycle – integrating the complete suite of Continental truck tires with seamless transitions to retread products; and Continental emergency road service programs including the new TrukFix for OOIDA members. The ContiPressureCheck tire pressure monitoring system will also be demonstrated at the event, as will the Continental Commercial Vehicles and Aftermarket Division's new VDO RoadLog electronic on-board recorder. VDO RoadLog is designed to allow for drivers, fleets and owner operators to record and report Hours of Service (HOS) and other key compliance data quickly, easily and without monthly fees.
Also at GATS, Continental's latest tire products that "drive" fuel economy and excellent performance will be previewed, starting with a first look at the ContiEcoPlus HD3, a third-generation long-haul highway drive tire product engineered for operating conditions of more than 120,000 miles per year. The ContiEcoPlus HD3 was named to highlight its improved rolling resistance and Eco Plus technology, the name trusted by long-haul truck operators for maximum fuel efficiency. Continental's advanced ContiGOODSCasing features are also included for maximum retreadability, including a premium belt package, flatter contour and a more supportive bead package. The ContiEcoPlus HD3 is available now in size 295/75R22.5, with the remainder of the standard NAFTA sizes available at the end of 2012 and a ContiTread retread in early 2013.
"Through optimizing the tread depth and width, and the redesign of voids in the three-dimensional tread pattern, the ContiEcoPlus HD3 utilizes our design expertise to the fullest to achieve low rolling resistance without sacrificing mileage or traction. Both of these are important to long-haul operators in today's trucking environment, as is this tire's advanced capability for retreading," says Clif Armstrong, director of marketing for commercial vehicle tires, the Americas.
Also new at GATS will be Continental's newly launched HDR2 in an 11R22.5 size to replace the existing HDR1. Remaining sizes will be launched in early 2013. The HDR2 (Heavy Drive Regional) has been engineered to improve mileage by more than 20% over its predecessor. The mileage improvement is attained through tread optimization leading to 16% more overall tread volume. The HDR2 features a high number of lateral sipes extending all the way through the shoulders to maintain superior traction levels throughout the life of the tread. A large number of circumferential grooves allows for the evacuation of traction-robbing mud and water, while the tire's groove geometry reduces stone retention. "For a durable, dependable and retreadable regional drive tire, the HDR2 is the new solution from Continental," says Armstrong. The HDR2 ContiTread retread product will be available November 2012.
Continental encourages show attendees to stop by the unique Solutions Pavilion and find out how partnering with a premium tire and automotive components manufacturer can help them meet their operating challenges head on.
"Whether fuel efficiency, mileage or maximizing your truck's operating potential are your goals, Continental is the company that can deliver the solutions you need in today's transportation climate," Armstrong says.
GATS takes place at the Dallas Convention Center, August 23 to 25. Armstrong will also speak at the GATS Tire Manufacturers' Information Panel on Friday at 1 p.m.