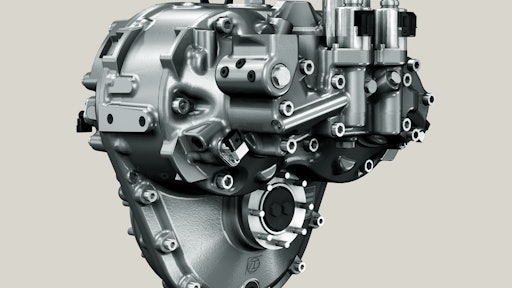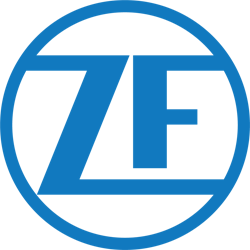 ZF presents the continuous variable hydrostatic 2 HC 85. The transmission system incorporates actuators and sensors for construction machinery up to 10 tons, enabling continuously variable vehicle speeds up to 42 km/h with no additional shifting devices. Two crankshaft radial piston motors are an integral part of the drive unit.
Compact loaders are employed where the large machine has no access or is over dimensioned. In addition to the known requirements for more compact drive systems with reduced noise level there is an ever increasing demand for a reduction of fuel consumption. At the same time, however, vehicle speed should be increased. The new hydrostatic drives of the HC-range meet these requirements of the market.
Features:
Hydrostatic transmission for construction machinery up to 10 tons (9.5 metric tons)
Equipped with two crankshaft radial piston motors, therefore efficiency is increased and consequently fuel consumption is reduced
Advantages:
Vehicle speeds up to 42 km/h (26 mph)
Increased riding comfort, continuously variable without gear shifts
No interruption of traction, therefore improved handling performance
Low start speed due to electronically controlled driveline Management
Better performance as there is no interruption of tractive effort
An electronic propulsion control ensures a low starting speed, the output control (limit load control) also adjusts the diesel engine to the optimum speed when driving at full throttle
Thanks to the use of crankshaft radial piston motors efficiency is increased and consequently fuel consumption is reduced.
Noise reduction through the low speed of the hydro motors
Reduction of interfaces to the vehicle due to the integration of the hydro motors into the transmission system
Increased degree of freedom regarding vehicle installation thanks to a very compact design.
One source supply of complete driveline components: Transmissions, axles and driveline control.
Integrated crankshaft – radial piston motors
Compared with other hydrostatic driveline solutions with bent axis axial piston motors, ZF installs crankshaft radial piston motors. With the crankshaft radial piston motor design there are less leakages thanks to piston seals. Pistons are guided in pivoted cylinders and as a result of this there are no lateral forces.
Essential features of this crankshaft radial piston motor are:
Wide range of displacement variation
Displacement variation integrated into the crankshaft up to 0 ccm/rev
Speeds up to 2,500 rpm with high pressure
High starting torque
High efficiency
Low noise
ZF Axle systems for compact loaders
ZF axle MT-L 3015 and MT-L 3020
Service friendly
Excellent ground clearance
High life expectancy
High flexiblity
ZF rigid axles MT-L 3010/15/20/25 feature a particularly slim design. The high ratio in the wheel heads' final drive allows a compact axle drive thus providing increased ground clearance. The system comprises a directly mounted transfer box for hydrostatic drive suitable for 55 to 160 ccm engines. Service brake and parking brake are offered as a drumbreak plus the series also offers a low-wear multi-disc brake at the axle input.
ZF axle MT-L 3045F and MT-L 3055
The MT-L 3045/55 axles being provided by ZF are optimally suited for the on-site operation of compact loaders. The enormous durability and robustness have been tested at the in-house test bench both alone and in connection with the relating compact loader transmissions. Besides this the axles are characterized by:
Direct mounting of the HC 85 to rear axle MT-L 3045/55
Above center pivot mount of rear axle
Front with parking brake (disc brake) on the drive
Integrated wet multi-disk brakes
Different differential options
Besides the hydrostatic drive solution, ZF offers a hydrodynamic axle configuration. The power shift transmission from the range 4WG 98 with torque converter in this case is arranged as a separate unit between these two axles. For this driveline a central oscillation of the rear axle is available.