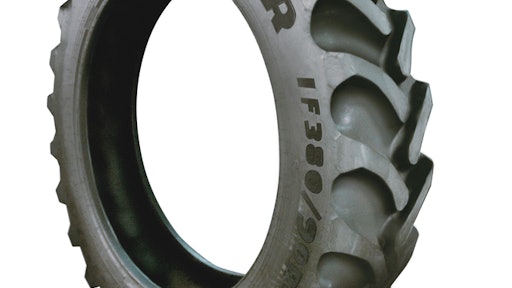 Goodyear Farm Tires, a Titan Tire Corporation brand, announces the launch of two Increased Flexion (IF) tire product lines — the first IF offerings in both the Titan and Goodyear Farm Tires product lines.
The Goodyear IF Ultra Sprayer and the Goodyear IF DT830 offer greater sidewall flexibility than a standard radial, which allows them to carry 20% higher loads at the same inflation pressure as a standard radial or the same load with 20% lower inflation pressures. The increased capacity results in improved durability and increased speed ratings (40 mph), as well as better flotation and reduced soil compaction.
"IF technology has been in use in Europe for the past few years, simply because they don't use duals, but as equipment keeps getting larger and faster, we believe IF technology will catch on in the United States — particularly for sprayers," says Scott Sloan, product manager for Titan Tire Corporation. "We have been field-testing our IF technology for the past couple years with great results."
Goodyear IF DT830
The Goodyear IF DT830 is currently available in two sizes — IF800/55R46 and IF900/50R46. Featuring a low sidewall profile, the DT830 boasts a smooth ride with less bounce and reduced likelihood of power hop. Its 45-degree lugs are designed to be 25% deeper than conventional R-1 tires, which promotes maximum traction and easy self-cleaning.
Goodyear IF Ultra Sprayer
The Goodyear IF Ultra Sprayer is available in seven sizes ranging from IF320/90R46 to IF380/105R50.The IF Ultra Sprayer is designed with increased lug bracing as well as increased lug surface, which promote excellent lug durability at high loads.
Field testing: a case study
Scott Petersen — an Illinois corn and soybean farmer — has been testing the new 800/55R46 on his John Deere 9420 tractor for three years and has undoubtedly seen increased performance during that time.
"The instant we put the IF tires on, it was like a whole new tractor," says Petersen. "We have been running them on 1,500 acres for three seasons, and they're still like brand new tires — no stubble damage, better performance, comfortable ride and no unplanned downtime."