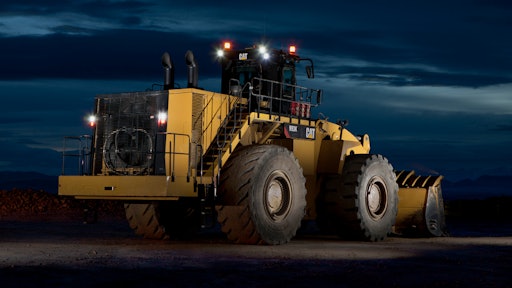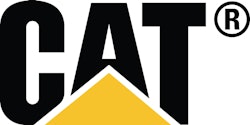 Recent design refinements for the 993K wheel loader are aimed at better serving mining and quarry customers worldwide by further enhancing the 993K's ability to deliver reliable, low-cost production with durability and safety. Now available with either a Tier 4 Final or Tier 2 Equivalent Cat C32 engine, the 993K incorporates new engine control and powertrain features that boost performance and reduce fuel consumption, while the new Cycle Timer feature adds efficiency to loading operations. The now standard Deluxe Service Center greatly simplifies routine service, and operator convenience and safety features include new controls and an available powered access system.
The updated 993K fuel consumption is reduced as much as 10%, achieved by lowering rated speed and equipping the machine with Auto Idle Kickdown (reduces throttle-lock speed after a set idling interval) and Engine Idle Shutdown (shuts down the engine after extended periods of idling). A new battery management system shuts down electrical power after the latter system activates. Complementing these features is the Delayed Engine Shutdown system, which allows the engine to idle after key-off to cool the turbocharger for extended life.
A new torque converter is matched to work precisely with the reduced engine speed, maintaining rimpull and hydraulic performance, while gaining further fuel savings. In addition, the Powertrain Torque Strategy system ensures optimum converter output at reduced speeds. The system also reduces engine speed for directional shifts made at high ground speeds.
Next-generation VIMS
The 993K Vital Information System (VIMS 3G)—which allows real-time assessment of machine performance and includes an advanced Payload Control System that enables on-the-go weighing and payload recordkeeping—now includes a Cycle Timer feature that tracks and stores all aspects of the truck loading cycle in an eight-segment format. Cycle Timer promotes efficient operation by providing detailed information (such as average cycle time, wait time, fuel consumed, and tons produced per unit of fuel) that can be used in management reports.
Service features, operator environment
The 993K Deluxe Service Center uses touch-pad switches and indicator lights to allow checking all fluid levels, as well as allowing the draining and filling of fluid compartments from ground level. The new system also permits the technician to check operating parameters via the VIMS messenger screen.
Filtration for transmission and hydraulic implement oil has been enhanced for an even higher level of fluid cleanliness, promoting longer component life, and full-flow, in-tank screens are added to return lines. Rerouting of hydraulic hoses contributes to easier component service.
In-cab sound levels for the 993K have been reduced from 72 to 70 dB(A), due in part to new cab mounts that also reduce vibration, and an available sound suppression package reduces spectator sound levels to 112 dB(A). Also in the cab, new controls for the HVAC system allow more precise temperature control, and back-lighted switches are more easily identified.
For enhanced safety, an available powered access system provides a self-storing set of stairs that can be lowered and raised from ground level or from a location just outside the cab. This system, which interlocks with the neutral safety switch and parking brake, allows three-point contact when accessing the machine. Also available is the Cat Detect System, combining short- and long-range radar coverage with camera coverage to detect obstacles behind the machine.