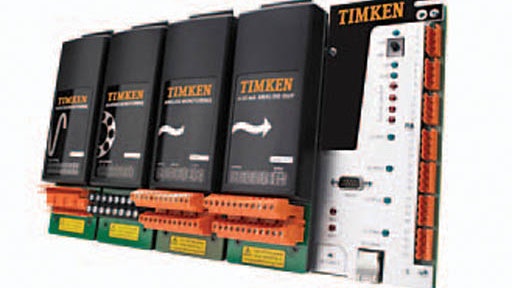 Representatives of The Timken Company, together with KGHM International Ltd.'s Robinson Nevada Mining Co. (RNMC), presented at MINExpo 2012 on their predictive maintenance success. The presentation featuring speakers from both companies was held on Tuesday, September 25, 10:15 a.m. to 12:15 p.m., at MINExpo in the Las Vegas Convention Center. The seminar focused on the predictive maintenance and tools used to improve the reliability of dragline equipment at the RNMC mine, which mine managers say helped avoid millions of dollars in unscheduled downtime over the past five years.
RNMC turned to Timken to provide condition monitoring and bearing maintenance training as well as bearing repair services for its open pit copper and gold mine near Ely, NV. Thanks to the training offered by Timken, Robinson Mine technicians have been collecting data on some of the mine's most critical bearing applications and identifying problems before equipment becomes problematic.
"Within two months of initiating the training program, Timken helped us find impairments in two bearings that could have caused catastrophic results if not detected," says Cary Brunson, RNMC mill maintenance general superintendent. "Without Timken's training and reliability services support, these two events alone could have cost us in excess of $3 million each in unscheduled downtime, labor and parts."
Trip Kern, strategic account specialist for Timken, says mine operators value robust maintenance, repair and training services. "Timken gave Robinson Mine the ability to make advanced diagnostic decisions that improved their operations. The ability to schedule maintenance and understand the condition of their machines has added to their bottom-line," Kern says.
Timken offers a portfolio of condition monitoring solutions, including portable handheld devices, continuous monitoring devices, online systems and field reliability support services. Those support services range from vibration, infrared thermography and oil analysis to fan balancing, ultrasonic analysis and video-scope inspections.