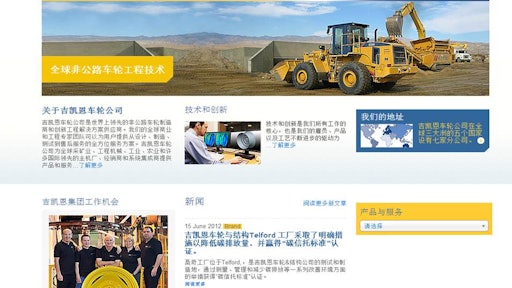 In recognition of its continued growth and expansion in China, GKN Wheels, an international leader in the design, manufacture and testing of large off-highway wheels, part of GKN Land Systems, has launched a dedicated website to provide a focal point for its market-leading technologies and products. 
Samuel Ning, General Manager of GKN Liuzhou, comments, "GKN has spent more than 25 years developing and investing in its Chinese capabilities, and now operates from many locations around the country, employing some 5,000 people. We are fully committed to continuing to grow inChina, and the newly translated GKN Wheels website positions us to better serve our customer base here."
The Chinese language website now acts as the country's first point of call for GKN Wheels customers and suppliers. It provides news and technical information, company brochures, videos and contact details, with hyperlinks to other GKN businesses in China.
Earlier this year GKN Land Systems expanded its footprint in China with the signing of a new joint venture with Lianyungang Huading Wheel Co., Ltd. The joint venture, known as Lianyungang GKN Huading Wheels Co. Ltd. in Donghai, near the city of Lianyungang, Jiangsu Province in Northern China will produce wheels for agricultural equipment; primarily for the tractor and combine-harvester markets in China and Asia Pacific.
This complements GKN's existing plant in Liuzhou in southern China which has seen more than £3 million invested into its production facility to create a mining wheel center of excellence. GKN Liuzhou is a world class market-leading facility for the production of off-highway wheels which serves the global off-highway market for mining and construction equipment, including harbour cranes and fork lift trucks, ranging up to 63 in.