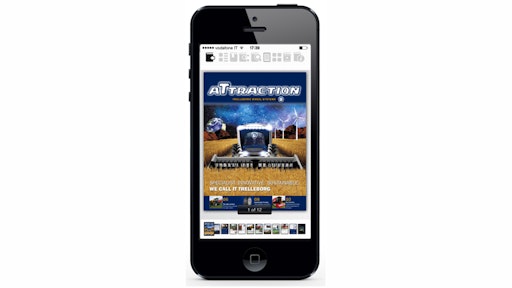 Demonstrating its commitment to supporting the agricultural industry, Trelleborg has made its "aTtraction" app available for use on all mobile devices and platforms, including iOS and Android smartphones.
Available in eight languages, the app enables users to download and interact with up to 21 issues of Trelleborg's aTtraction magazine, which provides farming professionals with everything they need to know about the very latest agricultural industry trends and best-in-class solutions from Trelleborg. The intuitive app allows interaction with individual opinion articles, imagery and video for a more enjoyable reader experience.  
Roberto Angelucci, Digital Marketing Manager at Trelleborg Wheel Systems, says, "Times are changing and modern agriculture demands digital interaction and communications with customers. So much so, the latest mobile tools and applications are fast becoming a pivotal source of information for farming professionals, helping them to run farming operations more efficiently and productively.
"As such, we have extended our digital offering to help shape the future of agriculture with the extension of the aTtraction app to all mobile devices and platforms. At just the swipe of a finger, the app provides farming professionals with access to industry leading technical advice, case studies showcasing the most innovative and ground-breaking machines as well as technologies and thought provoking insights from some of the most recognized names in the agricultural industry.
"The new app also features a revised design and user interface that allows farmers to share their favorite content with friends and colleagues by e-mail, via Facebook or Twitter."
Trelleborg's aTtraction app is continuously updated, providing users with access to the very latest issue of aTtraction magazine. Trelleborg is also in the process of enabling users to download the app in additional languages.