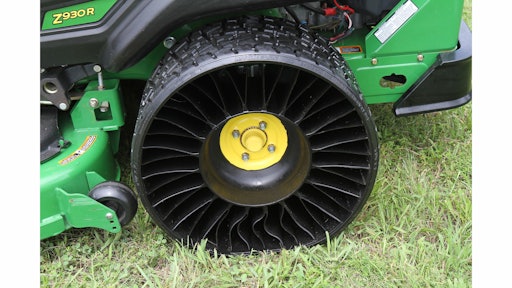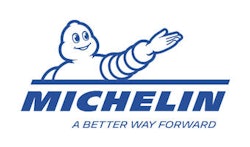 At this year's Green Industry and Equipment Expo (GIE), MICHELIN Tweel Technologies announced it has partnered with John Deere to equip its ZTRAK 900 Series lineup of zero-turn commercial mowers with the ground-breaking MICHELIN X TWEEL TURF as original equipment to replace a standard 24x12x12 tire. Available on the 54-, 60- and 72-inch deck sizes, the MICHELIN X TWEEL TURF eliminates downtime and is maintenance free.
The newest version of this award-winning technology, MICHELIN X TWEEL TURF airless radial tire is available for landscape professionals who normally experience expensive and inconvenient downtime associated with flat tires. Using automotive rubber technology, the tread lasts up to three times longer than standard turf tires. Operators will experience greater performance than with a pneumatic tire, increased uptime, enhanced hillside stability, reduced operator fatigue, and improved productivity resulting in a lower cost of ownership.
"We have been working with the John Deere team for several years and the result is a partnership that has the potential to dramatically change the commercial mowing market," says Ralph Dimenna, head of Michelin Tweel Technologies. "Our MICHELIN X TWEEL TURF provides the benefits associated with pneumatic tires, but it won't go flat."
"John Deere has consistently offered revolutionary technology to the professional landscape contractor and now, in partnership with Michelin, offers the MICHELIN X TWEEL TURF on our 900 Series ZTrak," says Nick Minas, Product Manager, John Deere Commercial Mowing. "The MICHELIN X TWEEL TURF could very well be the last rear tire contractors will ever need for their zero-turn mowers."
The new MICHELIN X TWEEL TURF offers high strength, poly-resin spokes to carry the load and absorb impacts while providing reduced machine bounce. This translates into excellent operator comfort and in turn, productivity. The proprietary design also resists damage. The multidirectional tread pattern is optimized for hillside stability and helps prevents turf damage. The proprietary Comp10 Cable technology allows the load to hang from the top, resulting in low contact pressure that mimics air filled tires. The MICHELIN X TWEEL TURF is the only 24x12N12 commercial product available to offer the advantages of no maintenance, no compromise and no downtime. The four bolt pattern, heavy steel gauge steel hub fits a variety of popular zero-turn commercial mowers.
The MICHELIN X TWEEL TURF can be viewed by those attending the GIE+EXPO 2014 in Louisville, KY, in booth #2036 along with the MICHELIN X TWEEL SSL. It can also be seen in the John Deere booth #1110.
Companies in this article