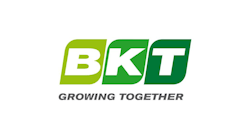 BKT, the off-highway tire manufacturer headquartered in Mumbai, India, achieved a turnover of 780 million US dollars in the financial year ended on March 31, 2014, recording in the last five years a 30% growth. BKT is currently holding 6% of the global market share in the off-highway tire sector in specialty segments such as: agricultural machines and equipment, earthmovers, mining, industrial vehicles, port, ATV and lawn & garden applications.
BKT established its first manufacturing plant in Aurangabad, Western India, in 1988. After having identified a niche segment for the international markets, the company started the production of off-highway tires in 1995. A steady rise in success led to the setting up of a second production site in Bhiwadi in 2002. In 2003, the production for ATV, lawn & garden and earthmoving applications commenced, followed by the launch of Agrimax radial tires in 2004. In the same year, the production of tire molds in Dombivali started off. In 2005, a wind energy plant was installed enabling the company to self-produce clean and renewable energy. The following year, the third production site at Chopanki was opened.
A further milestone for BKT has been the establishment of the production site in Bhuj. Equipped with state-of-the-art plants and covering a surface of 300 acres, the objective is the production of 120,000 tons/year at full capacity by the end of 2014.
Bhuj is also a brilliant example of "social factory" hosting a housing colony for the employees and their families living inside the community, where a hospital, a fire brigade station, a large sport center as well as a school are going to be built - a demonstration of BKT's focus on the well-being and the quality of life of their people.
All BKT production sites, as well as the tire designing and developing processes, are ISO 9001: 2000 quality certified. BKT complies with the severest international standards in terms of production parameters and quality control in compliance with environmental regulations such as the European Directive "REACH". Furthermore, the company is certified for ISO 14001:2004 International Environmental Management System.
BKT products are sold in more than 130 countries worldwide through a network of distributors. With a workforce of more than 7,000 employees and an extensive selection of more than 2,300 products designed for different segments of the off-highway tire market, BKT has always remained true to their vision: serving the market by placing products which enable customers to achieve their goals by providing them with best performance.
BKT aims at reaching a turnover of 2 billion US dollars by the year 2020.
This goal can be achieved by means of the continuous development of new products particularly designed for the need of each segment, a determined marketing and sales strategy, brand value and visibility, inspiring modernity and the perception of a dynamic and stable company.