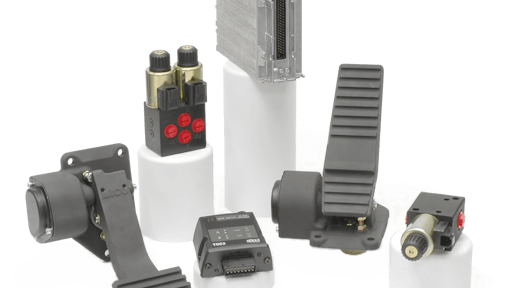 It's no secret that heavy-duty vehicles are getting smarter. System by system, sensors and computer processors with software and algorithms are taking vehicles to new and more intelligent heights. In the name of productivity, efficiency and safety, intelligent braking systems are on the rise, albeit slowly in some off-road applications.
In the heavy-duty on-highway market, TJ Thomas, Director of Marketing and Customer Solutions – Controls Group, Bendix Commercial Vehicle Systems LLC (company information, 10056597) estimates about one-third of new Class 8 trucks are spec'd with a stability system, and about one-tenth with collision mitigation systems. These active safety technologies are widely available through all Class 8 truck manufacturers as OE-installed options, he says.
On-highway intelligent brake systems have been in development for years with millions of test miles. "They've required the engineering of complex algorithms, sensors and radar units, and extensive, rigorous testing in countless variable situations, including weather conditions, driving scenarios and terrain," says Thomas.
Conversely to on-highway applications, in the off-road markets of construction, agriculture, forestry and mining, Stephen D. Royle, Senior Project Manager at MICO Inc. (company information, 10055784) estimates that less than 10% of its applications currently in production feature computer-controlled braking features. However, he continues, that number is steadily increasing. "The larger and more expensive the vehicle, the more likely it will include intelligent braking features," Royle says. "The majority of our current development projects for Tier 4 Final machines include intelligent braking features, so several new ones will start serial production soon."
Royle says once its off-road customers experience the benefits, they are pleasantly surprised with how well it works. "Usually the customer initiates a project to add a single intelligent feature to the current brake system. Once they start experimenting, they find they can include a number of other optimizing improvements and often come back for more in the following generation of machine. Once they have added the capability to control all their brake pressures, they can add any additional intelligent braking feature with only software and sensor additions."
Benefits and challenges with system acceptance and implementation
Truck fleets consistently report high return on investment (ROI) value for intelligent braking systems preventing rollovers, loss-of-control and forward collisions. The first step in aiding customer acceptance is to make sure the systems are available from OEMs, and the on-road trucking industry has done that.
"The second part of the equation varies from fleet to fleet: Although the systems provide a high ROI, much depends on circumstances like a fleet's size, income, and prevalence of accident situations. As with spec'ing almost anything else on a base truck, it's about funding and priorities when making decisions," says Thomas.
At Bendix, a lot of focus is currently being directed at greater integration of its intelligent brake systems to prioritize the many alerts provided to the operator. A system can address everything from a truck's lane departure to tire pressure and forward collision warnings. "With everything drivers have in their field of vision, it's a lot of information," says Thomas.
For OEMs, integrating a robust and reliable active safety system onto its vehicle platform enables the manufacturer to meet the needs of a wider range of fleet customers while at the same time offering a vehicle that is safer and easier to operate. Similarly, the end user is able to gain valuable information from the data generated by the system to make smarter decisions and for driver training.
MICO's Royle sees a lack of technical people available for the technology's implementation as the biggest barrier to growth. The easier the system can be integrated into a vehicle's platform, whether on- or off-road, the more likely an OEM will be able to implement the system.
The agricultural industry has been one of the slowest to adopt an intelligent braking system, which can be a costly feature that may not be seen as a worthwhile investment at the moment, however, future legal requirements for anti-lock braking systems (ABS) on high-speed tractors might drive stronger need for system implementation.
In the mining industry, the desire for remote controlled and fully-autonomous vehicles makes it one of the stronger industries for intelligent brake system adoptions. This sector also includes some of the largest and most expensive machines which makes it the most likely to have the most sophisticated features available, Royle says.
Current and future products
"Most of our products for intelligent braking systems convert signals from computers into brake pressure," says Royle. MICO drew on its background of over 60 years of rugged hydraulic brake design and manufacturing for heavy equipment and over 10 years of electrohydraulic braking expertise to design its intelligent electrohydraulic braking system, MICO MOBEUS (product information, 10949076, 10910043, and 10857615).
The MICO MOBEUS family of braking components utilizes the integration of electronics to create improved performance and efficiency for controlled braking for on-road and off-road machinery. (To read more on the development of MICO's MOBEUS system, read A brake-through in electrohydraulics at www.oemoffhighway.com/10770952.)
ABS decreases the probability of wheel lock-up during braking and can increase the stability and steerability of the vehicle during a braking event. Traction control (TCS) provides intelligent control of wheel spin to assist a vehicle in slippery or difficult terrain. Electronic stability control (ESC) uses sensors to measure yaw rate and the centrifugal forces a vehicle encounters while turning to assist in corrective action to stabilize the vehicle.
At Bendix, its Electronic Stability Program (ESP) full-stability system addresses both roll and directional stability through sensors that recognize and mitigate conditions that could lead to rollover and loss-of-control. "Full stability technology typically assesses situations more quickly than roll-only stability systems, since it includes additional sensors that measure driver intent and vehicle direction, and then delivers automatic brake interventions involving the steer, drive and trailer axles," explains Thomas.
The Bendix Wingman Advanced collision mitigation technology (product information, 10280908) is built on the foundation of Bendix ESP. It uses a radar sensor mounted to the front of a vehicle to provide active cruise control with braking features. Whether or not the cruise control is engaged, the system provides following distance and stationary object alerts at any speed greater than approximately 10 mph. The system's collision mitigation feature provides additional braking interventions, delivering up to two-thirds of the vehicle braking power through the steer, drive and trailer brakes. Above approximately 15 mph, this "always available" braking feature can assist drivers through an alert and automatic application of the brakes to help decelerate the vehicle when a rear-end collision may be imminent.
"The driver still maintains control of the vehicle and can add additional braking or steering inputs to help avoid or minimize the collision situation," says Thomas. "We know that no matter how advanced a system is, it won't replace the need for safe, alert drivers practicing safe driving habits, or diminish the importance of comprehensive driver training."