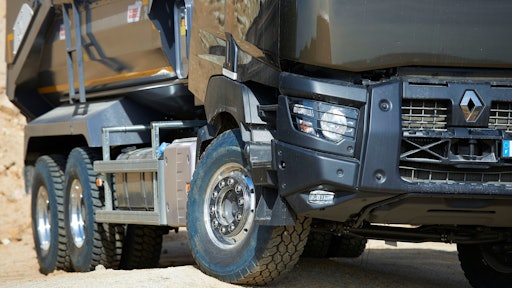 Setting new standards in terms of robustness, obstacle clearance capacity and pulling power, the Renault Trucks K is particularly suited to meet the needs of customers operating in challenging environments. Going even further to meet demands that can call for severe applications such as carrying heavy loads, or transport assignments in mines and quarries, Renault Trucks now offers the Optidriver Xtrem gearbox on its K range.
This supremely robust gearbox has an entry shaft with six toothed sections instead of four as well as specifically sized and thermally treated cogs which have been configured to increase the overall assembly's strength. Furthermore, it has a traction capacity of up to 120 t and a specific gearshift management program which constantly adapts to the vehicle's load thanks to information provided by a sensor. This makes it possible to perfectly adapt the gear ratios to every situation. Renault Trucks thus offers its customers operating under severe conditions the possibility of enjoying the advantages of an automated manual gearbox in terms of driving comfort and lower fuel consumption. Optidriver Xtrem also improves vehicles' mobility, thereby making their worksite operations even safer.
With the K range, setting new standards in terms of robustness and the Optidriver Xtrem gearbox, Renault Trucks offers efficient solutions for the most demanding fields of activity.