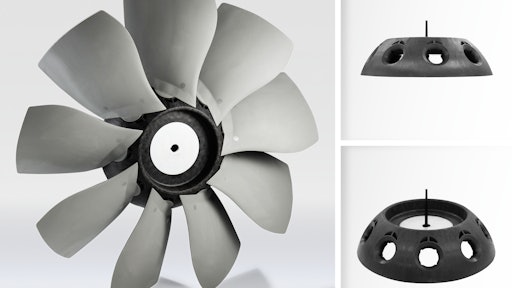 BASF will exhibit an axial fan made entirely of Ultramid Structure LFX, a long glass fiber reinforced polyamide at this year's NPE2015: The International Plastics Showcase, March 23 to 27, 2015.
This new polyamide fiber system provides improved fiber bonding with plastics, which results in a more stable fiber skeleton structure. Due to its high weld line strength and creep resistance, Ultramid Structure LFX can withstand extreme stress.
Some product highlights are:
Protection against damage and excessive deformation of plastic
It can absorb impact and shock energy at temperatures as low as -30 degrees without breaking
Good heat resistance
Retains mechanical properties over a wide range of temperatures
Exhibits very good, long-lasting dimensional stability even at elevated temperatures
Multi-Wing International A/S, a leading manufacturer and developer of axial impellers, innovates with BASF's new Ultramid Structure B3WG10 LFX in the production of the hubs used in mixed flow flans.
"Numerous tests have proven that Ultramid Structure LFX can withstand extreme centrifugal forces," says Victor Silbermann, Development Manager at Multi-Wing. "The stable fiber network makes it ideal for heavy loads and therefore, a good alternative to metals in the production of our hubs."
"Through close collaboration and consultation with Multi-Wing, BASF was able to optimize the processes and molds for their axial impellers," says Andre Schäfer of application development at BASF. "Our ability to optimize the properties of Ultramid Structure LFX makes it ideal for other customer applications."
This easy to process, versatile product is commercially available.
Companies in this article