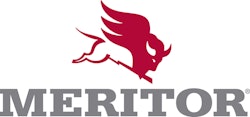 Meritor Inc. is launching a series of webinars to update fleet and dealer customers on the correct application of downspeeding at the 2015 Alternative Clean Transportation (ACT) Expo May 4 to 7 in Dallas.
"Downspeeding, one of the integrated fuel-efficiency solutions we'll showcase at ACT, is an effective way for fleets to reduce fuel costs and minimize the negative impact on the environment, but there can be unintended consequences if not applied correctly," says Bob Ostrander, Chief Engineer, Driveline for Meritor. "We've spent the better part of almost two years conducting extensive testing and developing solutions. We've created these webinars to help fleets avoid damage and premature wear."
The webinars explain the effect of downspeeding on drivetrain components when applied incorrectly and help participants better understand how to avoid damage. The current downspeeding trend employs fast rear drive axle ratios with direct drive transmissions to lower cruising speed rpm and decrease fuel consumption and greenhouse gas emissions.
Ostrander will share information on downspeeding based on multiple engineering tests and experiments in easy-to-understand live webinars.
Downspeeding is proving to be a fuel-saving solution for fleets. Every 100 rpm decrease in cruising speed translates to 1% fuel economy improvement, Ostrander says.
Meritor's downspeeding-ready axles and high-torque-rated drivelines ensure even transfer of torque throughout the drivetrain. Fast axle ratios on the 14X, FUELite and FUELite+ can integrate with the RPL35 and RPL35SD drivelines, which are designed to handle high torques resulting from downspeeding.
Meritor will showcase its market-leading 14X 6x4 rear axle platform, which was recently equipped with the super-fast 2.28 ratio; FUELite and FUELite+ 6x2 high efficiency rear axles; and RPL35 Series high-torque-rated drivelines. These products are combined with direct drive transmissions to achieve downspeeding. Meritor also offers solutions to fit the close-coupled overdrive transmission combinations with a wide range of ratios for 6x4 and 6x2 applications.
Fleets can register for the webinars at Meritor booth No. 1435 or at meritordownspeeding.com.