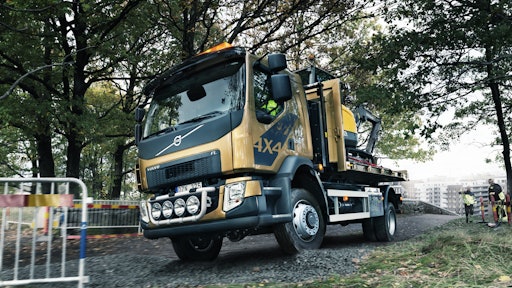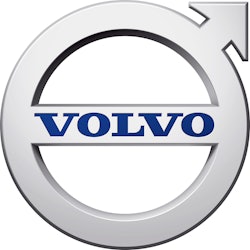 The Volvo FL is now available in a four-wheel drive (4x4) version with exceptional get-you-there ability on slippery, steep and uneven roads. The truck is ideal as a special purpose vehicle in both urban environments and more demanding conditions, or as a service truck for quarries and construction sites.
Does the job in all road conditions
With smooth external dimensions, high comfort and high torque, the Volvo FL is ideal for hectic urban traffic. With four-wheel drive and improved ground clearance, it drives equally effectively on pitted gravel paths as on asphalt roads.
"Many of our customers work in areas where weather and road conditions can change quickly. The Volvo FL with four-wheel drive is so versatile that it can perform tasks that might otherwise require an extra truck on challenging road surfaces," says Pernilla Sustovic, Segment Manager for Distribution at Volvo Trucks.
Support for construction equipment
The Volvo FL with 4x4 can also operate in quarries or drive to construction sites in cramped urban environments. And with a total weight of up to 16 tonnes, it has plenty of loading capacity and supports advanced equipment such as skylifts, cement mixers and cranes.
"The most noticeable difference with the new Volvo FL with 4x4 is the raised chassis, which raises its ground clearance by just over 6 cm at the front and 10 cm at the rear. The higher chassis also increases the angle of attack by 25 degrees, making it easier for the truck to drive out of ditches and deep ruts," says Sustovic.
Four wheel drive with low gear
The Volvo FL with 4x4 has permanently engaged four-wheel drive. The distribution gearbox has a high gear and a low gear setting. The high gear is used during normal operation, and in challenging conditions the low gear can easily be engaged by pressing a button on the instrument panel.
Compressed air for more functions
The truck can also be equipped with an extra air nipple on the chassis for operating various accessories or inflating tires.
Available throughout Europe
The new Volvo FL with 4x4 is available with a Euro 6 configuration, and will be sold in EMEA markets where Euro 6 is mandatory.