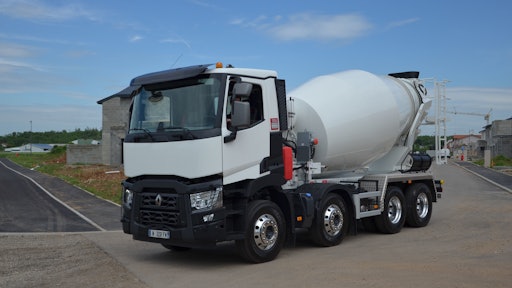 Entirely devoted to carrying concrete and perfectly adapted to both on- and off-road conditions, the Renault Trucks C XLoad is the payload champion in its category. With an unladen weight of just 9,200 kg certified by the French body UTAC, this robust and ultra light vehicle allows hauliers to optimize their delivery rounds and therefore increase their cost efficiency.
The Renault Trucks C XLoad 8x4, with twin tires at the rear, has an unladen weight of only 9,200 kg, certified by UTAC, the official French certification body. Designed for use on-road, but also off-road, the Renault Trucks C XLoad combines an outstanding payload with pulling power, robustness and the comfort of the C range.
This vehicle maintains all the qualities of the Renault Trucks C and also benefits from weight saving equipment, such as aluminium tanks and rents. Mainly designed for concrete transport applications, the Renault Trucks C XLoad is pre-equipped for mounting a cement mixer, which reduces bodybuilding time.
The payload champion, the Renault Trucks C XL can carry up to 8 m³ of concrete. This gives it the capacity to save one full load for every 16 delivery rounds, thereby offering significant savings on major work sites and generating considerable savings.