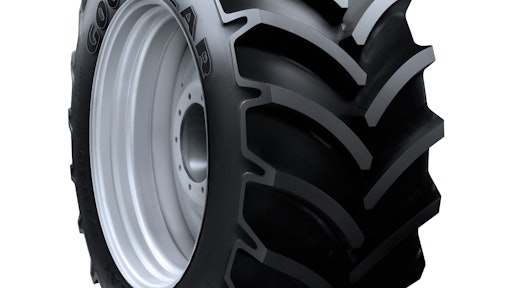 Titan Tire Corporation announces that an expanded line of Goodyear LSW tires were introduced at Farm Progress 2015. The next-generation LSW tractor, combine and grain cart tires will allow growers to carry 40% higher loads at the same inflation pressure as standard tires, or carry the same load at 40% lower inflation pressures. These expanded inflation capabilities, combined with the industry-exclusive LSW design, result in reduced soil compaction, and have been proven to minimize road lope and power hop for a smoother, more productive operating experience.
"With standard IF/VF tires, users often have to boost inflation pressures in order to avoid stability issues like road lope and power hop — but by doing that, they sacrifice the reduced soil compaction benefits those tires were built to achieve," explains Scott Sloan, Agricultural Product Manager for Titan and Goodyear Farm Tires. "With LSW, users don't have to make that kind of sacrifice, because road lope and power hop are minimized regardless of inflation pressures, and you still get the benefits of reduced soil compaction when properly inflated."
Titan and Goodyear Farm Tires will be located at booth 1233 in the Northeast Quadrant during the show, and visitors are encouraged to try out the expanded LSW line at the Titan Ride 'n' Drive event (Northeast Exhibit Field) to witness the benefits of the technology first hand.
Goodyear OPTITRAC LSW
The Goodyear OPTITRAC line features the most popular and proven Goodyear tread design, which is 25% deeper than conventional R-1 tires for increased traction. The 45-degree lug angle promotes a unique self-cleaning action, making the OPTITRAC series particularly suited to wet soil conditions. The latest additions to the OPTITRAC LSW line will be at Farm Progress, and they include MFWD row crop, combine and grain cart sizes.
MFWD row crop
Fronts: 380/65R42 (replaces 380/80R38) 420/75R34 (replaces 420/90R30) or 420/75R38 (replaces 420/85R34)
Rears: 480/70R54 (replaces 480/80R50) 
Combine
Drive: LSW 520/75R46 (dual alternative to 520/85R42) and LSW 580/75R46 (dual alternative to 580/85R42)
Steer: LSW 850/55R30 (alternative to 850/60R26)
Extreme Flotation (Combine and 4WD)
LSW 1250/35R46 – Can run on a combine drive position or on large 4WD tractors (super single alternative to 1250/50R32)
Goodyear Muck Master LSW
The Muck Master Series is outfitted with a unique high lug-to-void tread design that is especially effective for manure handling operations. The tires can handle heavy loads and longer distances of roading compared to other comparably sized tires, and the unique perpendicular angle of the lugs makes for easier rolling, for reduced resistance and improved fuel consumption. New size additions to the Muck Master LSW lineup include:
LSW 520/75R46 – grain cart – (alternative to 520/85R42)
LSW 1100/45R46 – grain cart
LSW 1250/35R46 – grain cart
LSW 750/55R30 – combine steer (alternative to 750/60R26)
Goodyear Custom Flo Grip LSW
The Custom Flo Grip LSW was designed in collaboration with an Arkansas-based multi-line tire dealer whose customers needed a high-flotation option with R-2 treads for rice and cane applications, but were having serious issues with road loping during transport when using existing (competitive) 1250-sized tires on the market. The Custom Flo Grip brings the best of both worlds in terms of flotation and traction, as well as smooth roading. This new size combination is available as an Extreme Flotation option on select 2016 John Deere combines.
LSW 1250/35R46 – combine drive (alternative to 1250/50R32)
LSW 850/55R30 – combine steer (alternative to 850/60R26)