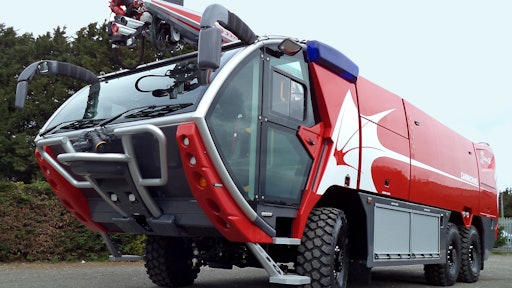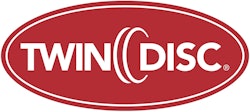 An aircraft rescue and firefighting (ARFF) vehicle is not a piece of equipment where corners are cut. Everything on board needs to perform with absolute reliability. Carmichael's Cobra 3 shifts flawlessly with a strong and dependable TD61-1179 transmission system from Twin Disc.
The extreme-duty TD61-1179 is comprised of an engine-mounted 17.5 in. type 8 torque converter, a 6-speed Power-Shift automatic transmission and the state-of-the-art TDEC-400 electronic control. Designed to withstand 700 bhp and 2,013 ft.-lbs. of torque at an input speed of 1,800 rpm, it's built specifically for ARFFs. It provides fast starts, quick shifts, smooth acceleration and maintains the ability to pump and roll.
The high-performance Cobra 3 excels at everything from hazard mitigation and intervention to evacuation and rescue. Its Volvo Penta TAD1662VE and Twin Disc transmission system power the rig from 0 to 50 mph in 30 seconds. Known for its speed, stability and braking, the unit safely transports six in full bunker gear, surrounded by a stainless steel safety cage. The purpose-built airport crash tender features a 2,641 gallon water tank, and carries 380 gallons of foam and 550 lbs. of powder. It meets NFPA and ICAO standards.
"The Twin Disc integrated transmission system was chosen because we knew it would excel in the new generation Carmichael Cobra 3," says Rob Norton, Principal Chassis Engineer for Carmichael Ltd. "Twin Disc representatives worked with our engineers to ensure the TD61-1179 package was tuned to meet the precise requirements expected of a top-of-the-range emergency and firefighting vehicle."