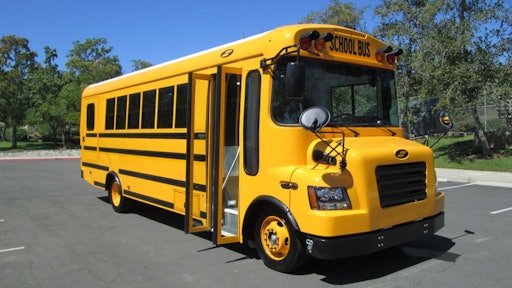 Continuing to demonstrate its collaborative approach to greening America's fleets, Motiv Power Systems and Creative Bus Sales Inc have announced they will partner on a new all-electric school bus. Called the Starcraft e-Quest XL, the zero-emission school bus will use the Motiv All-Electric Powertrain, a Ford F59 chassis and Starcraft body. Features of the e-Quest XL bus include passenger capacity of up to 48, a range of up to 85 miles and 50% charge within 2 hours, among others.
"Developing more options for all-electric school buses offers more opportunities for school districts to reduce harmful pollutants near children who are especially vulnerable to health impacts from diesel emissions," says Motiv founder and CEO Jim Castelaz. "We're thrilled to be working with Creative Bus Sales to help improve conditions for students' health, save districts on fuel costs, and support California's environmental goals."
Starcraft Bus is North America's largest and fastest growing shuttle bus company. Starcraft's top selling dealer is Creative Bus Sales, the nation's largest bus dealership with multiple sales and service locations throughout the United States. This partnership will also allow Chino, CA-based Green Alternative Systems (GAS), the largest fleet conversion company in North America, to add Motiv to its portfolio of available alternative fuel systems for fleets across the country.
"After making our mark with compressed natural gas upfits, we are thrilled to be able to collaborate with Motiv and offer an all-electric option to our customers," says Mark Matijevich, General Manager of GAS. "Greening the nation's fleets is not a one-size-fits-all solution; between CNG, propane and now an all-electric option, we continue to guide schools and commercial fleets towards the best options to fit their operational needs while reducing their carbon footprints."
In addition to the Ford F59 chassis, the Motiv All-Electric Powertrain has upfit packages available for the Ford E450 and Crane Carrier COE2 Class 8 chassis. Like the F59 All-Electric Powertrain, these configurations include all of the components needed to transform a chassis from fossil-fuel-powered to zero-emission all-electric drive including batteries, electric motors, a universal charger and electric power for auxiliary systems. The Motiv All-Electric Powertrain is professionally installed to OEM standards at the time of the vehicle's manufacture.
Named one of Popular Science's Best of What's New technologies, the Motiv All-Electric Powertrain has successfully been used in school buses, shuttle buses, delivery trucks, maintenance trucks and North America's only all-electric refuse truck deployed by the City of Chicago.