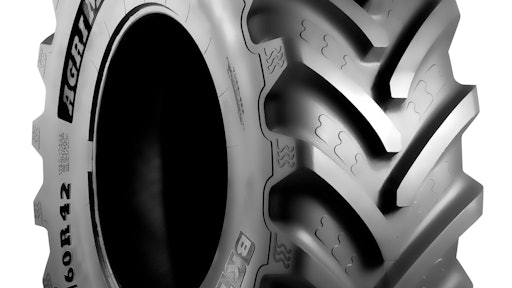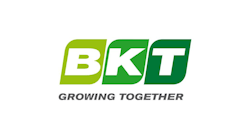 The Spanish world of agriculture is about meeting at the 39th edition FIMA, the International Agricultural Machinery Fair, held in Zaragoza, Spain, from February 16-20, 2016. At the joint booth with San José Neumáticos, BKT is showcasing an exemplary selection from across the wide AGRIMAX tire range designed to satisfy the demanding needs of modern farmers as well as a RIDEMAX tire. BKT is also showing its social commitment, one of the company's core values, by distributing 10,000 footballs as part of an initiative promoted by ASPANOA to help children who suffer from cancer.
As a response to the most demanding needs in modern farming, BKT has developed a very extensive range of agricultural tires for a variety of different applications. At FIMA, BKT is going to exhibit at its stand (Hall 7 Stand A-2), six patterns of its tried and tested AGRIMAX tire lineup:
Agrimax RT 955 (in sizes 270/95 R 38 and 300/95 R 52) is a radial tire for row crop applications, while some sizes are also suitable for spraying and vineyard harvesting. The tire features a special tread design and a rounded shoulder providing outstanding traction and continuous contact on the land. As a result, both valuable crops and the soil are protected from damage.
Agrimax Teris (size 1050/50 R 32) is a cutting-edge radial tire that is able to support heavy equipment without damaging the crops. Designed for combine harvesters and spreaders, the optimized lug pattern and the reinforced shoulder provide outstanding traction and stability. Thanks to a large contact patch, Agrimax Teris features high flotation capability along with high load capacity, ensuring at the same time best soil protection and maximum yield. Farmers can also benefit from enhanced handling and riding comfort.
Agrimax Fortis (size 800/70 R 38) is an ideal tire for all preparation, planting and soil treatment operations. Designed to equip high-powered 4WD tractors, the tire provides a range of enhanced features to optimize modern farmers' business productivity. These include excellent traction even if soil conditions are tough, high flotation capability turning into lower soil compaction, reduced rolling resistance leading to fuel savings as well as reduced emissions. Farmers will also enjoy best riding comfort. 
BKT also displaying its high-end product, Agrimax Force, in size IF 800/70 R 42 at FIMA. This top-performing radial tire has been specially designed for 4WD high-powered tractors over 250 hp. The enhanced IF technology allows for carrying even the heaviest loads at low pressure and for improving traction performance. The larger footprint area at low pressures contributes to not compacting the soil. The special tread design ensures optimum self-cleaning features making the tire ideal for both field operations and road transfers (up to 65 km/h). Thanks to its polyester casing, the annoying flatspotting effect, a vibration linked to the temporary tread flattening in the contact patch, has been eliminated. Agrimax Force is a really comfortable tire that also offers best fuel economy due to a low rolling resistance and a reduced slip rate.
And for farmers looking for a versatile and reliable tractor tire with no compromise on performance, BKT takes Agrimax RT 657 (size 650/65 R 42) to Fima. The tire ensures best driving comfort along with significant fuel savings. It is ideal for both soil tillage and on-the-road usage. Some sizes are also suitable for vineyard harvesting.
Finally, on display is Agrimax Sirio (size 710/70 R 38), a high-speed tire specially engineered for high-performance tractors. This radial tire provides best performance both on the road and in the fields. Thanks to a speed index E, Agrimax Sirio enables the transport of heavy loads at up to 70 km/h. The new sidewall compound and the enhanced bead drastically reduce the heat generated in the tire due to the particular stress at high speed. It's always uniform footprint – especially on the road – significantly reduces the rolling resistance. The result is a clear benefit for the farmer in terms of fuel economy. In addition, the excellent sidewall flexibility offers outstanding comfort at any operating condition.
Last but not least, BKT exhibits RIDEMAX IT 696 (size 440/80 R 30), a tire with a unique tread design that provides excellent grip for road applications, even in winter conditions. It is best suitable for transport applications also thanks to its high-speed feature. The tread design has been specially developed to ensure excellent self-cleaning properties and a low rolling resistance.
BKT's presence at FIMA 2016 shows the Indian tire manufacturer's tribute paid to the market on the Iberian Peninsula as Lucia Salmaso, Managing Director of BKT Europe confirms, "We consider FIMA an event of paramount importance. It is a unique occasion to meet our users in a country where agriculture plays a leading role. Apart from our commercial appearance, we wanted to give a sign of human solidarity, since sensitivity to environmental and social issues are values that are deeply rooted in our corporate philosophy. For this reason, BKT has taken part at FIMA 2016 sustaining an initiative to help children suffering from cancer. We are actually going to distribute 10,000 footballs among the visitors paying a contribution of one euro per football, which will be donated to ASPANOA, the Spanish organization supporting families with children suffering from cancer."