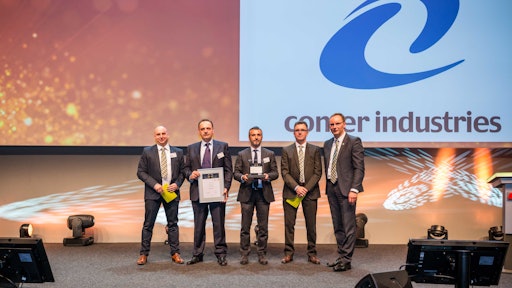 The 12th CLAAS Suppliers' Day was held January 13 at the headquarters of the German company in Harsewinkel (North Rhine Westphalia), Germany.
The event was attended by 770 guests, hosted in the CLAAS Tecnopark. The German group was represented by Hans Lampert, in charge of Group Executive Board for Finance and Controlling and Rüdiger Mohr, VP Corporate Purchasing. For Comer Industries, Managing Director Matteo Storchi and Key Account for CLAAS Dante Baruffi were present.
The Suppliers' Day began with the presentation of the 2015 results of CLAAS, that improved revenues compared to the previous year, despite the difficult economic environment. The agricultural sector has suffered from a significant decline due to the global economic downturn, the fall in prices of agricultural commodities and the slowdown in the economies of the BRICS. The CLAAS Group and Comer Industries continued however to invest to develop innovation and confirm their leading position in this market.
During the ceremony, Comer Industries was awarded Supplier of the Year in the Innovation category.
The partnership between Comer Industries and CLAAS started in 1987 and has continued over the years, thanks to the development of innovative solutions for the kinematics of the customer and the ability to make prototypes, pre-series and series within the time required by the development of new machinery. Transmissions made jointly for rotary rakes, corn and grain headers, for the combines and forage harvesters were specifically significant for the growth of both companies were.
"This award is not a finish line for us but it is a further incentive to improve our performances and meet future challenges together with our partners," says Storchi.
Companies in this article